By Ray Bennett
LONDON – With little more than a digital camera and the New Forest, four resourceful filmmakers from Ringwood in Hampshire who call themselves Gumboot Pictures have made a fantasy horror movie titled "Small Town Folk" that has been released on DVD in 20 territories around the world.
DNC Entertainment releases the DVD in the United Kingdom this month with Imagination Worldwide already handling the title in several markets and a United States deal about to be sealed.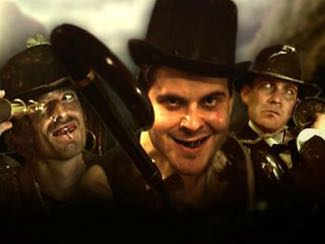 Not so much low budget as no budget, "Small Town Folk" was made over a period of four years by director Peter Stanley-Ward, producer Chris Musselwhite, coproducer and actor Chris R. Wright (pictured) and writer Natalie Conway. Having attended the Festival de Cannes four times already, they are headed back to the Riviera this month trying to raise money for their next project.
All four were involved in writing their debut feature, which was made on weekends and holidays using a camera Stanley-Ward, who still works in a pub, was given for his 21st birthday. He had made a short film with his brother called "Rat-a-tat-tat" that was shown in festivals and on BBC South. It took him and partner Conway to New Zealand where they snuck onto the set of their hero Peter Jackson's "The Lord of the Rings: The Return of the King".
A second short film, titled "The Tavern," was short-listed in a 48-hour digital filmmaking competition run by Johnny Oddball. An 8-minute hillbilly story, they shot it in five hours and it ended up being screened on the big screen at London's Curzon.
Then they decided to make a feature. "We thought, let's make something that will have a professional return," says Musselwhite, who has worked as a production assistant and film editor. Wright, who works in a shop, adds: "The main point was to show what we could do with nothing."
"We made it up as we went along. It was the most intense film school," says Stanley-Ward. "On the first night, we were very excited about starting a movie and just as we began filming we heard rockets and fireworks going off. It was Guy Fawkes Night and we'd forgotten."
With the help of actor/writer Dan Palmer, who had made a couple of small films of his own, they tightened the script and bought some material from a local shop so they could use green screen effects. Gradually, using home software, they made the film appear as if it were made "in black and white in colour".
This story appeared in Cue Entertainment.