By Ray Bennett
Two intriguing but very different character studies are on display in films released in the U.K. today. Paolo Sorrentino's creepy "The Family Friend" (L'Amico di Famiglia) is about an Italian moneylender who ruthlessly exploits everyone he encounters while Michael Hofmann's mischievous "Eden" tells of a German chef whose concoctions are pure delight.
They each boast standout performances. Giacomo Rizzo (above center) is memorably loathsome as the aged usurer who takes advantage even of a young bride (Laura Chiatti) on her wedding day while Josef Ostendorf (below) tickles the palate as a misunderstood restaurateur who has a culinary affair with a young married woman (Charlotte Roche).
But while "Eden" offers an optimistic, if twisted, view of life, "Family Friend" argues that it's in everybody's nature to want to screw his fellow man and woman and it leaves a nasty taste in the mouth.
Sorrentino's film screened In Competition at the Festival de Cannes last May, which is when I reviewed it for The Hollywood Reporter. It also screened at the London Film Festival last October and at the Portland International Film Festival in February. No sign of a U.S. release but Artificial Eye is distributing in the U.K.
Here's how my review of "Family Friend" begins: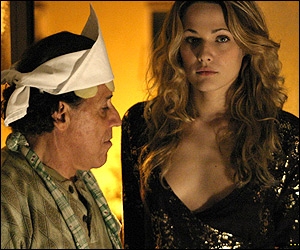 CANNES — Paolo Sorrentino's "The Family Friend" is a murky and morally dubious film about an odious moneylender whose services come with exorbitant interest and a repulsive pretence of intimacy.
A misogynistic male fantasy that presents a bleak view of life in Italy, the movie argues that ugliness is beautiful, beauty is ugly and greed consumes everyone.
This means that when the loathsome 70-year-old Geremia (Giacomo Rizzo) finds himself alone with a beautiful bride, Rosalba (Laura Chiatti, above), on her wedding day, she responds to his creepy lust in order to reduce the interest on her father's loan of the money that's paying for the wedding.
Rizzo gives a remarkable performance as the repellent usurer, but the film so smugly endorses the notion that the man's totally cynical nature reflects us all that the film becomes cheap and nasty itself. Audiences will be hard to come by.
"Eden" screened at the Czech Republic's German Language Film Festival last October and has also been released in Holland, German, and Belgium. It's released in the U.K. by ICA Films. Here's how my review of "Eden" begins today in The Hollywood Reporter: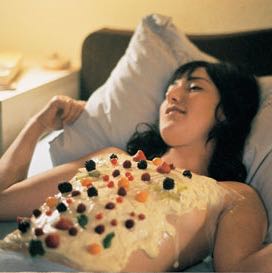 LONDON — Don't see Michael Hofmann's tastily perverse little fable "Eden" on an empty stomach, or your belly will be growling by the end of his story about a chef's cucina erotica and its effects on a young married woman named Eden.
It's not that the dishes created by master chef Gregor (Josef Ostendorf) look so tempting; in fact, the film makes quite clear the baser elements of what goes on in a refined kitchen. No, it's because of the expression on the face of Eden (Charlotte Roche, above) as she relishes the food he creates, and the evident joy that Gregor takes in having his creations appreciated.
A culinary love triangle with some very dark twists, "Eden" should go down well with audiences that enjoyed "Chocolat" and "Sideways" and have a taste for the sweetly twisted.