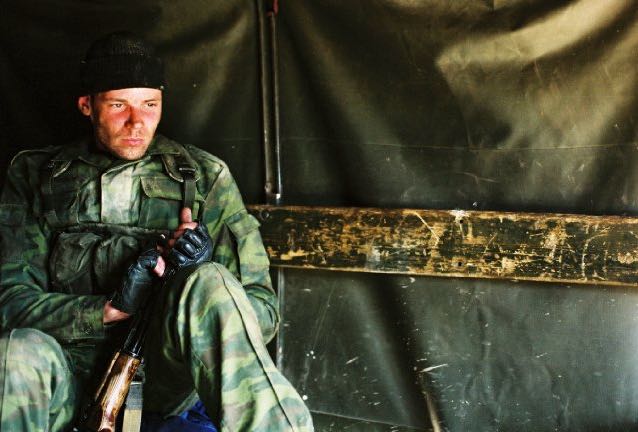 By Ray Bennett
KARLOVY VARY, Czech Republic – Shot in ferocious conditions and told with harsh economy, Aleksey Uchitel's hard-as-nails little war picture "Captive" gives a pointed snapshot of how men in combat tend to extreme behavior.
High in the pitiless mountains of Chechnya, a Russian convoy is attacked by rebels and trapped. Soldiers at a nearby garrison are ordered to capture rebels to lead them through the woods and across the high ground to their stranded comrades. The film follows two of them as they take a prisoner on the desperate trek through hazardous conditions in dreadful weather with the enemy on all sides.
The matter-of-fact depiction of men in war with an undercurrent of homoeroticism puts a fresh face on familiar territory and the film will please audiences that like some gritty realism in their action entertainment. The cast and crew perform beyond the call of duty in relating a tragic episode in a chronic conflict that continues to drain Russia and its Chechen region.
With starved dogs at the ready, the troop runs down a rebel outfit and captures potential guides with seasoned veteran Rubahka (Vyacheslav Krikunov, pictured) efficiently nabbing a young man named Djamal (Irakly Mskhalaia). Back at the garrison, Rubakha eats quietly while his rifleman partner Vovka (Piotr Logachyov), a cheery soul who is catnip to women, beds one and scores a bottle of vodka.
Eager to find the convoy and reluctant to hand over their trophy, Rubakha and Vovka head out into the woods ahead of the rest. Soon, the torrid weather turns to severe rain and the threesome, one with his hands tied, realize they must rely on each other for survival. In the midst of the hardship, the veteran displays a growing affection for their handsome prisoner.
When they stumble upon the captive's home village where a Russian soldier is imprisoned, a swap must be somehow arranged, presenting all three with major problems.
The acting is measured and taut, and the action is tense, especially in a long sequence in which the three men must clamber up a treacherous mountainside in a torrential downpour. It's a scene that, like the film itself, sticks in the mind.
Venue: Karlovy Vary International Film Festival; Cast: Vyacheslav Krikunov, Piotr Logachyov, Irakly Mskhalaia, Yulia Peresild; Director: Alexey Uchitel; Screenwriters: Vladimir Mekanin, Timofey Dekin; Producer: Alexey Uchitel; Director of photography: Yury Kleimenko; Production designer: Andrey Vasin; Music: Leonid Desiatnikov; Costume designers: Galina Deyeva, Mark Lee; Editors: Yelena Andreyeva, Gleb Nikulskiy; Production: Rock Films. Sales agent: Rock Films (Russia); No MPAA rating; running time, 80 mins.
This review appeared in The Hollywood Reporter.