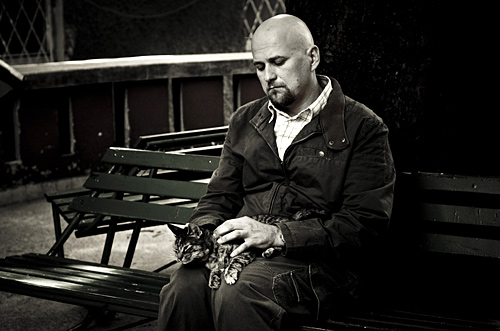 By Ray Bennett
KARLOVY VARY, Czech Republic – Talky, quirky and full of inventive moments, Hungarian director Gigor Attila's noir send-up "The Investigator" pitches a hired killer into a quest to discover the identity of the man he was paid to murder.
Played with a straight face to match the taciturn solemnity of its lead character, a pathologist, the film turns mystery yarns upside down and will please audiences who like their crime stories very dry and with a twist.
Anger Zsolt (left) plays Malkav, a stony-faced bald man with a goatee, who earns his living carving up dead bodies in the coroner's department. The bodies arrive due to all manner of mishaps, some quickly sketched in director Gigor's droll script. Efficient and respectful, Malkav not only sews up the corpses neatly after determining the cause of death but also applies makeup to ease the pain of whoever is required to identify the body.
He leads a solitary life aside from visits to his ailing mother and movie dates with a young waitress named Edit (Judit Rezes) who is amused by and tolerant of his obsessive-compulsive nature.
Malkav's problems begin when he promises his mother that he will not let her die of the bone cancer that is killing her even though he lacks the funds for the Swedish clinic that could offer a cure.
When a mysterious one-eyed man with the inevitable name Cyclops (Zagoni Zsolt) offers a large amount of cash if he will bump off a complete stranger named Szirmal (Sandor Terhes), he decides to do it. Almost immediately, he receives a letter from the dead man saying that they share the same father and so Malkav sets out to find what happened and why.
Anger plays the pathologist with a patient man's languor save for the quick eyes that miss nothing even if it takes him a while to understand. Gigor populates the tale with original turns on familiar characters and in Ildiko Toth, as the murdered man's devious wife, he has a classic femme fatale.
The surprises come thick and fast and Gigor pulls off a very clever scene in which he creates the cinematic equivalent of the passage in a novel where the hero goes back over every character's behavior and motivation. He puts the pathologist in a classroom with everyone, dead or alive, and lets them each suggest possible solutions to the puzzle. Mystery aficionados will love it.
Venue: Karlovy Vary International Film Festival; Cast: Zsolt Anger, Judit Rezes, Zsolt Zagon, Sandor Terhes, Ildiko Toth, Eva Kerekes; Director: Attila Gigor; Screenwriter: Attila Gigor; Producer: Ferenc Pusztai; Director of photography: Mate Herbai; Production designer: Sandra Stevnaovity; Music: Laszlo Melis; Costume designer: Beata Hoffmann; Editor: Zoltan Kovacs; Production: KMH Film; Sales: TrustNordisk; No MPAA rating; running time, 107 mins.
This review appeared in The Hollywood Reporter.