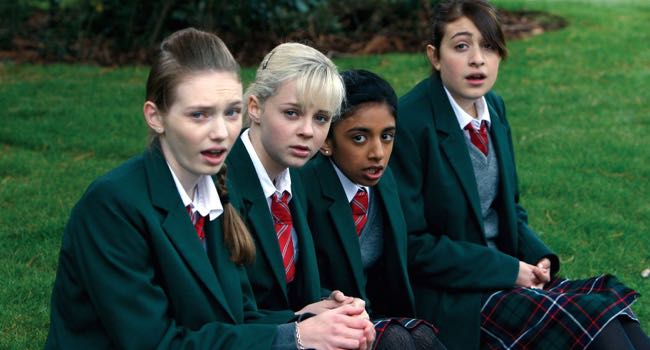 By Ray Bennett
LONDON — British movies have a history of exporting incorrigibly phony portraits of life in the country from village green coppers to plucky wartime Cockneys to country house families. Gurinder Chadha's "Angus, Thongs and Perfect Snogging" adds to the pile with its fantasy snapshot of life as a 14-year-old girl in modern England.
Based on a popular series of books by Louise Rennison that reflect the diary of a boy-crazy teenager named Georgia, the film is aimed squarely at 14-year-old females. With the boys said to be 16 and the girls 14, it all seems suspiciously pervy but maybe not to 14-year-old girls.
The film lacks the wit and drama that might pitch it beyond the target demographic although judging from what makes the girls squirm in the film, it might not succeed even there. Box office will depend on marketing heavily to loyal fans of the books.
Georgia (Georgia Groome) and her pals live in the polite English seaside town of Eastbourne where dads have good jobs with caring bosses; moms have nice homes and when one divorces she quickly sets up her own organic fruit and vegetable market.
They're good at school, these girls, although they seldom talk about it. They have no money worries and there's never a thought about what's going on outside their tiny well-off world. It's all about boys and the entire plot hinges on the attempts by Georgia and best-friend Jas (Eleanor Tomlinson) to snag hunky fraternal twins Robbie (Aaron Johnson) and Tom (Sean Bourke) who have just moved to town.
Relentlessly cheery without a shred of realism, the film breezes along with Georgia's chatterbox narration filled with invented slang that probably reads better than it sounds in dialogue. Angus is the family cat. Thongs are what girls wear to please boys but lead to "vulgaria." Perfect snogging is making out, which the film steadfastly insists is all these prematurely nubile youngsters get up to. Hmmn.
Opens: July 25 U.K. (Paramount Pictures International and Nickelodeon Movies); Cast: Georgia Groome, Eleanor Tomlinson, Aaron Johnson, Sean Bourke, Alan Davies, Karen Taylor; Director: Gurinder Chadha; Screenwriters: Gurinder Chadha & Paul Mayeda Burges, Will McRobb & Chris Viscardi; Director of photography: Richard Pope. Production designer: Nick Ellis. Music: Joby Talbot. Costume designer: Jill Taylor. Editors: Martin Walsh, Justin Krish; Producers: Gurinder Chadha, Lynda Obst. Executive producer: Scott Aversano; MPAA Rating PG-13; running time, 100 mins.
This review appeared in The Hollywood Reporter.