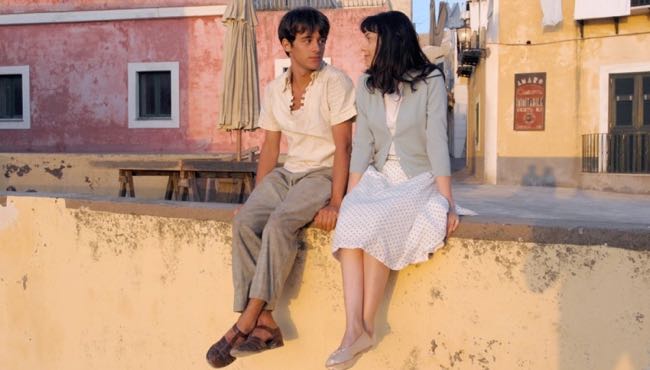 By Ray Bennett
LOCARNO, Switzerland – Swiss director Denis Rebaglia's romantic comedy "Marcello, Marcello" has a terminal case of the cutes as it relates the fable of a young man wooing his beloved on a Neapolitan island in the 1950s.
Sugary and overblown, the film's suffocating whimsy overwhelms a trifle of a story about an island tradition whereby when a girl turns 18 every boy is invited to bring a gift for her father. The bringer of the gift that best pleases the dad then gets to take the daughter to tea with an 8 o'clock curfew.
Those with a strong stomach for rich Italian desserts might find the film digestible and its relentlessly sunny disposition might endear it to some, but many will find it too sweet for its own good. Box office will be mostly homegrown.
Marcello (Francesco Mistichelli) is a wide-eyed fisherman's son who disdains the village tradition of gift giving until the girl in question is his childhood love, Elena (Elena Cucci), and he hits on the perfect thing. Each morning, the girl's father, the village mayor, screams at his neighbor, the butcher, about the noise made by his rooster.
Marcello decides to buy the rooster from the butcher to give to the mayor. The butcher, however, won't take money, insisting instead on two bottles of the rare wine made by a pair of eccentric sisters on the island. They, however, have something they want and it goes on like that as Marcello has to arrange a series of swaps from many of the village's prominent citizens including the seamstress, the barber, the priest and the parents of his main rival. Meanwhile, his teacher is on his back about skipping school and his father wishes he'd go off to college and get a life.
The young leads work hard but they have a disappointing lack of chemistry while many well-known Italian performers are allowed to chew up the excessively colorful scenery. Perhaps if Rebaglia had offered the sweetness with a spoon rather than laying it on with a shovel, things might have turned out better.
Venue: Locarno International Film Festival, Out of Competition; Cast: Francesco Mistichelli, Elena Cucci, Luigi Petrazzuolo, Alfio Alessi, Luca Sepe; Director: Denis Rebaglia; Screenwriter: Mark David Hatwood; Producer: Anne Walser; Director of photography: Filip Zumbrunn; Production designers: Marion Schramm, Andi Schraemli; Music: Henning Lohner; Costume designer: Pascale Suter; Editor: Claudio di Mauro; Production: C-Films, Zero Fiction Film; Sales: Telepool; Not rated, 97 minutes.
This review appeared in The Hollywood Reporter.