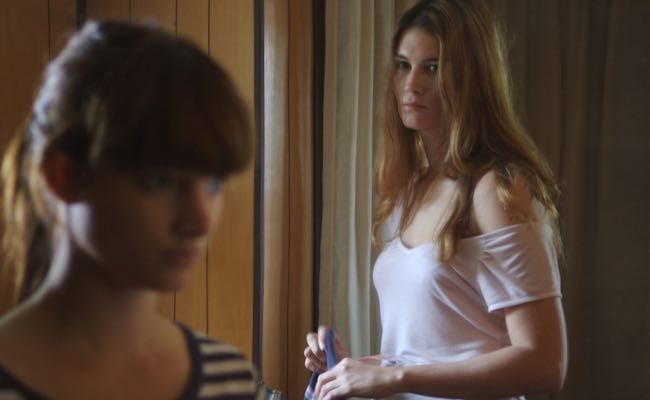 By Ray Bennett
LOCARNO, Switzerland – A woman who gave birth to her daughter at 14 strives hard to stop history repeating itself but the girl's impetuous passions pose a challenge in Francois Rotger's complex drama "Story of Jen."
Set in a French-speaking community in British Columbia, that Canadian province's vast hinterland plays a role too as the domestic drama transitions into a deadly manhunt. Well-intentioned and boasting some fine acting, the film suffers from its segue into the parkland with a chase lacking pace or tension. Prospects may be brighter on cable.
Laurence Leboeuf plays Jen, a bright but troubled youngster who keeps pretty much to herself at school and has a difficult relationship with her mother, the young and attractive Sarah (Marina Hinds). Mom is still suffering flashbacks to the discovery of her late husband, who committed suicide with a gun.
The husband was not Jen's father and when his half-brother Ian (Tony Ward) comes to stay with the intention of helping the family, she develops a crush on him. Jen's behavior changes at school and she begins a sudden friendship with a confident class leader (Annie Murphy).
Members of the community caution Sarah about the wisdom of a having a strange man on the premises but it's not the new young widow Ian is interested in, although his intentions appear honorable. Until, that is, he takes Jen on horseback into the forest.
Not helped by a rambling narration, the story becomes murky once it leaves the confines of the family home where Leboeuf and Hinds do good work establishing the pair's prickly bond. Murphy, too, impresses as the assured schoolmate. The men fare less well with Ward's outdoorsman an indistinct figure while Daniel Pilon's vengeful grandfather makes a plodding man hunter.
Rotger's approach to a worthwhile topic ends up almost too earnest so that what should be meaningful drama becomes meandering instead.
Venue: Locarno International Film Festival, In Competition; Cast: Laurence Leboeuf, Marina Hands, Tony Ward, Daniel Pilon, Annie Murphy; Director, screenwriter, music: Francois Rotger; Director of photography: George Lechaptois; Production designer: Valerie Massadian; Editor: Yannick Kergoat; Producer: Tom Dercourt; Production: Cinema Defacto; Sales: Roissy Films; Not rated; running time, 110 minutes.
This review appeared in The Hollywood Reporter.