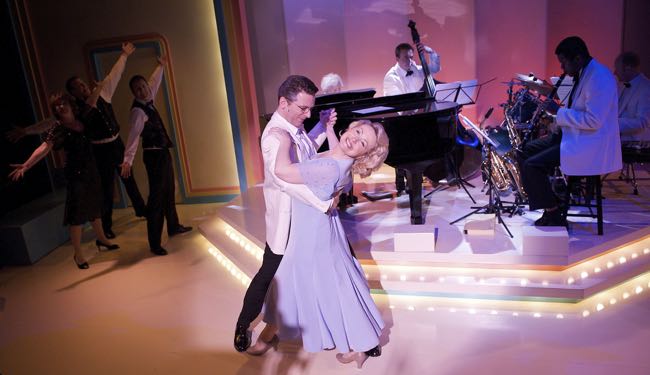 By Ray Bennett
LONDON – Away from her bright and breezy film and television image, the often troubled life of singer and movie star Doris Day offers plenty of drama for a show and Adam Rolston's "A Sentimental Journey" makes a creditable stab at it.
Presented as an informal tale related by Day's son Terry Melcher and Day herself, the show takes the star from her earliest days in Cincinnati when a car-train wreck ended her ambitions to be a dancer to success as a big-band singer to her time as the number one movie star in the world.
Her several difficult marriages including one that left her broke, in debt and committed to doing record albums and a TV series she didn't know about are also dealt with.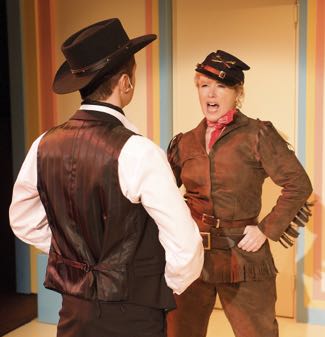 Dotted along the way, although not in chronological order, are a couple dozen hit songs from the Doris Day songbook and thanks to a talented cast topped by Sally Hughes it makes for an entertaining evening.
First-time playwright Rolston is aided by having veteran TV director Alvin Rakoff ("A Dance To the Music of Time", "A Voyage Round My Father"), a Canadian who has been based in the U.K. for most of his career, direct the piece.
The small stage at the Mill at Sonning, an acclaimed and always sold-out dinner theatre west of the U.K. capital, has to make room for a four-piece band so there's not much space for the players to move around.
Still, Hughes and Ian McLarnon, who plays her son, along with Tom Wallers, Carol Ball and Glyn Kerslake, who play assorted roles ranging from Day's mother and father to Frank Sinatra to Day's notorious agent-husband Marty Melcher, make the best of it.
The acting is spot-on but it's the singing that resonates. All the cast members have appealing voices but Hughes, who is also artistic director at the theatre, is often uncanny in replicating Day's tone and phrasing.
Pretty, blonde and youthful enough to impersonate the star at all ages, Hughes really nails some of the more demanding songs such as Gordon & Warren's "At Last," Fain & Webster's "Secret Love" and Styne & Cahn's "It's Magic."
Whether or not the production will have a life beyond the Mill at Sonning remains to be seen. It would need some development, but given Day's dramatic story and those wonderful songs, it wouldn't come as a surprise.
Venue: The Mill at Sonning, UK, runs through April 19; Cast: Sally Hughes, Ian McLarnon, Tim Wallers, Carol Ball, Glyn Kerslake; Book: Adam Rolston; Director: Alvin Rakoff; Choreographer: Joseph Pitcher; Set designer: Eileen Diss; Lighting designer: Matthew Biss; Costume designer: Jane Kidd; Musical director: Jo Stewart.
This review appeared in The Hollywood Reporter.
Read more about the Mill at Sonning and an article by the show's director, Alvin Rakoff