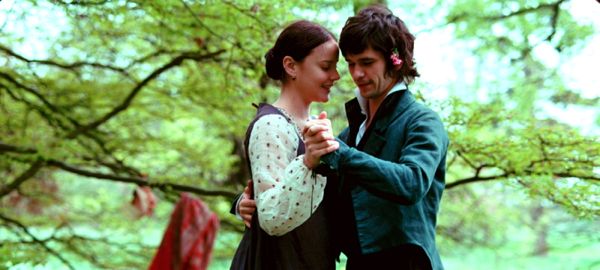 By Ray Bennett
CANNES – A treat for romantics and those who take their poetry seriously, Australian director Jane Campion's gorgeously filmed Festival de Cannes Competition entry "Bright Star" might not be a joy forever but it will do until the next joy comes along.
With much grace and at considerable leisure, 1993 Palme d'Or winner Campion ("The Piano") tells the story of the brief love affair between the gifted but early dead poet John Keats and Fanny Brawne. Ben Whishaw plays Keats with impeccable tragedy and Abbie Cornish portrays winningly the beautiful seamstress Fanny, whose passion is constrained only by the rigorous mores of the times.
Cynics need not apply and it's doubtful that "Bright Star" will be the shining light at many suburban mall movie houses, but festivals will eat it up, art house audiences will swoon and it will have a lucrative life on DVD and Blu-ray, not to mention the BBC and PBS.
The England depicted in the film is the one people are thinking of when they say they wish they were born during the time of the romantic poets. Only one scene in the picture shows the ugly underbelly of poverty in 1880s London, and for the rest it's all picturesque houses and gorgeous gardens in Hampstead Village.
There, Fanny lives with her widowed mother, Mrs. Brawne (Kerry Fox), and her well-behaved younger siblings Samuel (Thomas Brodie Sangster) and Margaret, known as Toots, (Edie Martin).
Their place in society takes them to social events and balls where Fanny's dance-card is always filled although the glamorous Keats prefers not to dance. She has made a name, and money, for herself as a skilled maker of most fashionable garments, although the best friend of the coveted Keats, a burly writer named Brown (Paul Schneider), dismisses her as "the very well-stitched Miss Brawne."
Fastidious and proud, Fanny feuds with Brown, who is over-protective of his genius friend, but she sends Toots to buy a copy of the poet's latest collection, as the child says, "to see if he's an idiot or not."
Persuaded that Keats is far from an idiot, she commences a romance that takes place within all the formal manners of the day so that intimacy relies on kissed love letters and briefly touched hands. When Keats' brother Tom dies of consumption, things do not auger well and while the love affair between the poet and the seamstress grows, his fate has already been written.
The English Whishaw, who was a sensation as Hamlet in Trevor Nunn's Old Vic stage production in 2004, played the similarly doomed Sebastian Flyte in "Brideshead Revisited" last year but he makes his Keats singularly memorable. Cornish has the acting skill to match her striking beauty and she makes the small loving gestures that the British might call soppy both real and touching. Among the pleasures of the film is listening to them both declaim Keats' poetry.
The entire cast is good, with Schneider, who was among the exceptional ensemble in "The Assassination of Jesse James by the Coward Robert Ford", and Fox especially strong. Cinematographer Greig Fraser captures beautifully Janet Patterson's sumptuous production and costume designs, and the lovely gardens and countryside. Mark Bradshaw's elegant score is pleasingly delicate.
Venue: Festival de Cannes, In Competition; Cast: Abbie Cornish, Ben Whishaw, Paul Schneider, Kerry Fox; Director, screenwriter: Jane Campion; Director of photography: Greig Fraser; Production and costume designer: Janet Patterson; Music: Mark Bradshaw; Editor: Alexandre de Franceschi; Producers: Jan Chapman, Caroline Hewitt; Executive producers: Francois Ivernal, Cameron McCracken, Christine Langan, David M. Thompson; Production: Pathé Productions, BBC Films, Screen Australia, New South Wales Film & TV Office, UKFC, Hopscotch International; Sales: Pathé Distribution; Not rated; running time, 120 minutes.
This review appeared in The Hollywood Reporter.