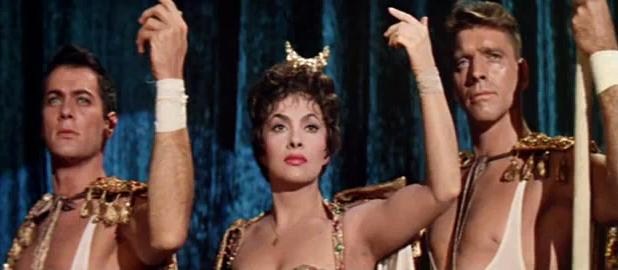 By Ray Bennett
LONDON – One year before Burt Lancaster and Tony Curtis made cynical music together in Alexander Mackendrick's "Sweet Smell of Success", they spent some time flying through the air for Carol Reed in "Trapeze".
The 1956 circus picture is released on DVD in the UK on July 30 by distributor Second Sight and while it's not as good as their Broadway picture, it has great atmosphere with scenes that show the promise of what Mackendrick was able to draw from the two actors. It was a big hit when it was released originally.
A former circus athlete and still remarkably fit in his mid-40s, Lancaster famously did his own stunts in the picture as veteran trapeze artist Mike Ribble who shows cocky youngster Tino Orsini (Curtis) how to do a triple somersault in mid-air. As the flyer, Curtis had a stuntman (including consultant Eddie Ward from Ringling Brothers) but Reed makes it all seamless.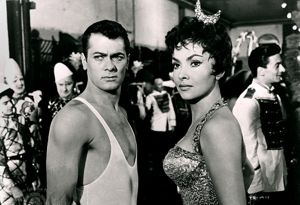 Italian bombshell Gina Lollobrigida, who had made her Hollywood debut three years earlier with Humphrey Bogart in "Beat the Devil", plays an ambitious and cunning circus performer who works her charms on both men.
It's a fairly hackneyed love triangle but the action is terrific and it's fun to see Lancaster and Curtis tangle albeit without the kind of biting dialogue they would get the following year from playwright Clifford Odets ("Golden Boy", "The Big Knife") and Ernest Lehman ("North by Northwest").
It's easy to see why La Lollo made such an impact although she lacks the knock 'em dead looks of Sophia Loren or the stunning beauty and sublime comic timing of Claudia Cardinale. Also, costume designer Veniero Colasanti ("El Cid"), following the Hollywood style of the day, constricts her in stiff outfits that lack any natural femininity.
Katy Jurado gives a typically smouldering turn as Lancaster's ex-lover, Thomas Gomez is the breezy circus owner and Sid James strolls about to no obvious purpose with a snake draped over his shoulders.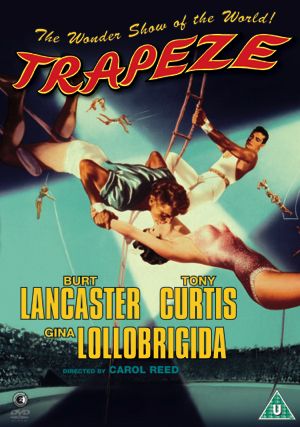 The continental setting is convincing thanks to Production Designer Rino Mondellini, who made many French films, and cinematographer Robert Krasker, who also was DP on Reed's "Odd Man Out" (1947) and "The Third Man" (1949), for which he won the Oscar. The colours are rich with wet streets to contrast against the sawdust of the ring.
Composer Malcolm Arnold had a very good range and won the Oscar for "The Bridge On the River Kwai" (1957) but he has a thankless task in "Trapeze" as so much of the action is on the high fliers with the traditionally clunky and repetitious circus music.
The film is based on a novel titled "The Killing Frost" by British writer Max Catto, who had a great many of his titles adapted for motion pictures. It's a surprisingly rich seam of work that includes "A Hill in Korea" (1956) with Stanley Baker, Stephen Boyd and Robert Shaw; Robert Parrish's "Fire Down Below" (1957) with Robert Mitchum, Rita Hayworth and Jack Lemmon; Lewis Gilbert's "Ferry to Hong Kong" (1959) with Curt Jurgens, Orson Welles and Sylvia Syms; Henry Hathaway's "Seven Thieves" (1960) with Rod Steiger, Edward G. Robinson, Eli Wallach and Joan Collins; Mervyn LeRoy's "The Devil at 4 O'Clock" (1961) with Spencer Tracy and Frank Sinatra, Ronald Neame's "Mister Moses" (1965) with Robert Mitchum and Carroll Baker, and Peter Yates' "Murphy's War" (1971) with Peter O'Toole.
I saw all of them when they were first released and they are well worth a look for one reason or another. Second Sight has a very good catalogue of interesting films on Blu-ray including Hal Ashby's "8 Million Ways to Die", written by Oliver Stone and starring Jeff Bridges, Rosanna Arquette and Andy Garcia. After "Trapeze", perhaps they will consider the other Catto films.