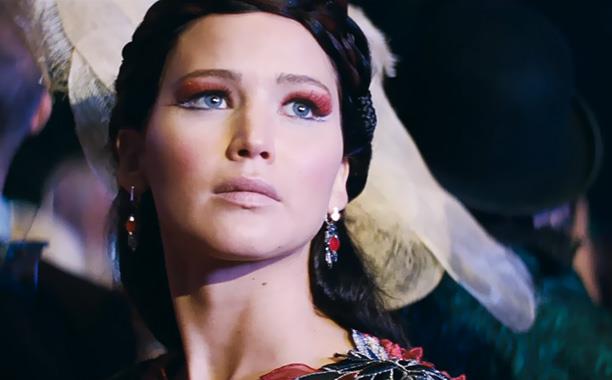 By Ray Bennett
LONDON – Prince Philip once landed at Heathrow and someone asked him how was his flight. The Prince said, 'Have you ever been on a plane? It was like that." Much can be said of movie sequels. If you saw the first "Hunger Games", the second one is like that.
Not to say that's a bad thing. Almost two and a half hours of Jennifer Lawrence (pictured) onscreen is no bad way to spend cinema time and "The Hunger Games: Catching Fire" has lots of splashy visuals and exciting action.
The idea remains the same: in a post-apocalyptic society, the pampered rulers of the US capital derive entertainment and distraction with an annual contest in which children from the various poverty-stricken other districts must battle to the death.
The notion that kids killing kids for fun can provide entertainment remains dubious in the extreme but this time the fodder is extended to grownups as all the former winners of the central event are recalled to do battle in a new arena.
Still, Katniss Everdeen, the Lawrence character, must face the prospect that she must kill or be killed by her friend Peeta (Josh Hutcherson) after they both survived the first go-round.
The story is all about betrayal and survival as mentor Haymitch (Woody Harrelson), nanny Effie Trinket (Elizabeth Banks), and designer Cinna (Lenny Kravitz) prepare them for the worst that President Snow (Donald Sutherland) can do to them.
More time is spent on the preparations as Katniss and Peeta are paraded around to the various districts with the revelation that Snow's goons have become even more sadistic and the people show signs of revolt.
A schemer named Plutarch Heavensbee, played by Philip Seymour Hoffman, has designed the new arena, which features more of its own hazards than in the first film so the contestants must fight not only each other but also some highly artificial and perilous elements.
Jeffrey Wright shows up as a former games winner who is now a tech wizard and newcomers Jena Malone and Sam Claflin add mystery and surprise to the mix. Liam Hemsworth has little to do as Katniss's sweetheart left at home but Stanley Tucci adds wit to the gleeming and absurd TV host Caesar Flickerman.
All the effects work well and director Francis Lawrence (no relation to the star) moves things along as briskly as he can given the evident requirement to cram in everything from the Suzanne Collins book. James Newton Howard's score has to be big but also he gets some sweet melody in there.
Like the first film, this one goes on way too long. Thank goodness, then, for Lawrence, who makes Katniss appear human and vulnerable as well as resourceful, indomitable and gorgeous.
The Hunger Games: Catching Fire / Release date UK and US: Nov. 22 (Lionsgate); Cast: Jennifer Lawrence, Josh Hutcherson, Liam Hemsworth, Woody Harrelson, Elizabeth Banks, Lenny Kravitz, Philip Seymour Hoffman, Jeffrey Wright, Stanley Tucci, Donald Sutherland, Toby Jones, Willow Shields, Sam Claflin, Jena Malone, Amanda Plummer; Director: Francis Lawrence; Screenwriters: Simon Beaufoy, Michael deBruyn, based on the novel "Catching Fire" by Suzanne Collins; Director of photography: Jo Willems; Production designer: Philip Messina; Music: James Newton Howard; Costume designer: Trish Summerville; Editor: Alan Edward Bell; Visual effects supervisor: Janek Sirrs; Producers: Nina Jacobson, Jon Kilik; Executive producers: Suzanne Collins, Louise Rosner-Meyer, Joe Drake, Allison Shearmur Production: Color Force, Lionsgate; Rating: UK: 12A / US: PG-13; Running time: 146 minutes