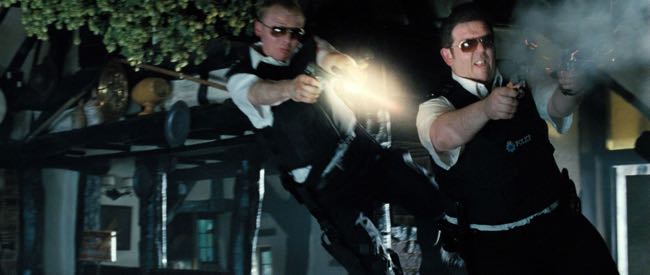 By Ray Bennett
LONDON – It's fast and furious; it's loud and there's lots of gunplay but screenwriters Edgar Wright (who directs) and Simon Pegg (who stars) fail to deliver the comic goods or thrills in their cop show lark "Hot Fuzz" the way they did in the zombie spoof "Shaun of the Dead".
Everyone can relate to a zombie picture, but "Hot Fuz" is "Point Break" meets "The Vicar of Dibley". It's most unlikely that outside the U.K. the twain's devotees know one another. Non-Brit action fans won't know or care about the village stereotypes and those who find the excitement of "Midsomer Murders" quite sufficient will be turned off. The film has done well at home so there could be a quick and possibly healthy box office return in its U.S. release based on the promise of "Shaun". It's more likely to enjoy a longer life on DVD.
A good lampoon requires affection as well as a sharp eye for mockery but it appears that Wright and Pegg love their shoot-'em-up flicks a touch too much. When Pegg, as an ace city cop assigned to a rural backwater, and Nick Frost, as a bumbling village constable, get their shotguns pumping and 9mms blazing, comedy goes out the window.
The film begins promisingly enough as all-action copper Sgt. Nicholas Angel (Pegg) solves crimes and catches villains across London. He's so good that he makes the rest of the Metropolitan Police look bad. He has this explained to him drolly in quick succession by senior officers played by Martin Freeman, Steve Coogan and Bill Nighy. If the story had played out in the capital with those actors involved, things might have gone better.
But Wright and Pegg have smaller fish to fry. Angel is assigned to a quiet and sedate West Country spot that has been named village of the year for as long as anyone can remember. He soon meets the local uniforms: Jim Broadbent as a police inspector with Frost, Paddy Considine, Bill Bailey and Olivia Colman among his force. The initial encounters bode well although probably not for teenaged moviegoers eager for the guns to go off.
When that happens, the killings get truly gory as Angel uncovers a plot in which locals murder anyone who might prevent the village from winning its annual prize. The filmmakers evidently took great satisfaction in casting performers well known to British television viewers and theatergoers as village folk with a taste for high-powered weapons. It's doubtful that audiences in the U.S. will recognize many beyond Stephen Merchant and Timothy Dalton.
All the action is staged with energy, but it gets relentless without anything really funny going on. Pegg shoots for laughs by playing it right down the middle like Dan Aykroyd doing "Dragnet". Again, Pegg's stupid fat sidekick, Frost, remains bereft of any observable talent for comedy. When the two start flying through the air with automatics kicking, you'd bet they would give anything to be in a Robert Rodriguez film and not in a comedy at all.
Released: UK Feb. 20 / US:April 20; Cast: Simon Pegg; Nick Frost; Bill Bailey; Tim Barlow; David Bradley; Jim Broadbent; Adam Buxton; Olivia Colman; Paddy Considine; Steve Coogan; Ron Cook; Timothy Dalton; Julia Deakin; Kevin Eldon; Patricia Franklin; Martin Freeman, Stephen Merchant; Director: Edgar Wright; Screenwriters: Simon Pegg, Edgar Wright; Director of photography: Jess Hall; Production designer: Marcus Rowland; Music: David Arnold; Costume designer: Annie Hardinge; Editor: Chris Dickens; Producers: Tim Bevan, Eric Fellner, Nira Park; Executive producer: Nathascha Wharton. UK rating: 15, running time 116 minutes.
This review appeared in The Hollywood Reporter and Reuters