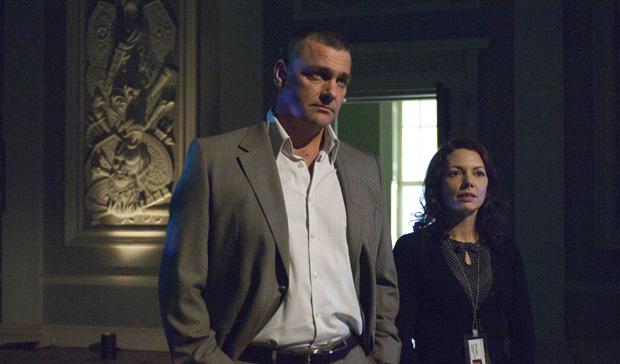 By Ray Bennett
Beautiful British actress Joanne Whalley (pictured with Ray Stevenson) makes an all too rare appearance tonight in a two-part BBC tale of the supernatural titled "Life Line."
It's a shame no producer offered her career a lifeline to match the smashing promise she showed in the British political drama "Scandal" in 1989. Playing the unenviable Vivien Leigh role in the television miniseries "Scarlett" in 1994, although she was very good, was no help at all.
She still has a great deal to offer and a piece of nonsense like "Life Line" can use all the movie star radiance it can get. The show airs tonight and Thursday on BBC1. Here's how my review begins in The Hollywood Reporter:
LONDON — Coming from Carnival Films, the stable that created the spooky series "Sea of Souls," the BBC's two-part supernatural thriller "Life Line" requires viewers to suspend more than the average amount of disbelief.
It demands an acceptance that human spirits may float independent of bodies and that when one body expires, a determined spirit can easily settle on another.
Those willing to go along with that notion and capable of overlooking some pretty lame dialogue may find the drama's central dilemma mildly diverting.