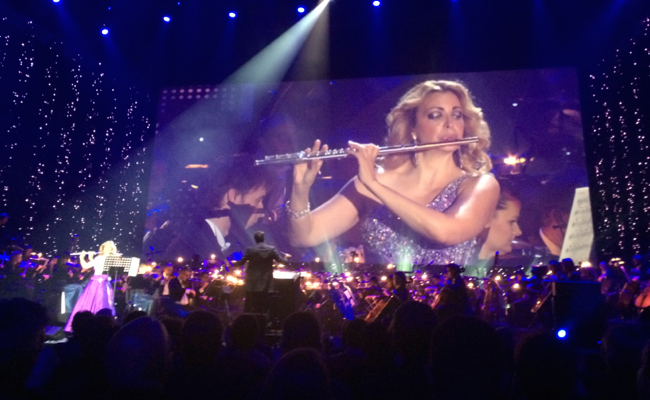 By Ray Bennett
One of the delights of the Krakow Film Music Festival this week has been that guests at the Holiday Inn in the city centre were treated daily to the gorgeous sound of a flute that wafted up from the room of Sara Andon as she practised.
On Sunday night, she showed the fruits of all that practise in the performance of three film music cues at the ASCAP 100th anniversary gala, which closed the festival. They were among the highlights of the night.
So skilled that she makes to play a difficult and delicate instrument appear effortless, the Californian musician appeared three separate times to perform a romantic cue by Alex North from "Spartacus", a theme by Elmer Bernstein from "To Kill a Mockingbird" and "Moon River" by Henry Mancini from "Breakfast at Tiffany's" as Spanish conductor Diego Navarro led the Beethoven Academy Orchestra and Polish Radio Choir.
Andon changed into a different glamorous gown each time and she told me afterwards she aims to match their colours with the mood of each tune. Poised and graceful, she draws a remarkably rich palette of tones from the flute.
Born in Pasadena, the USC and Yale graduate is the featured soloist for film score record label Varese Sarabande and she has innumerable soundtrack credits. Her range extends to classical music, jazz, pop, Broadway and new music.
She told me she'd wanted to play the violin as a child but her school band did not have strings: "I considered drums but I thought that I'd have to carry a set of drums with me so I settled for something easier to handle."
On Sunday in Krakow, the festival audience agreed that it was a very fine thing that she did.
There's a list of her recordings at CD Universe