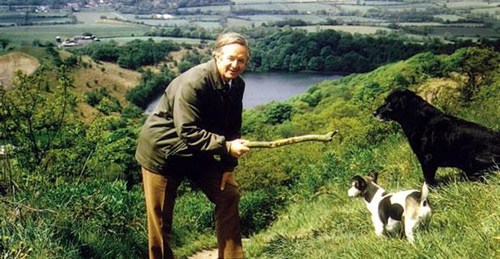 By Ray Bennett
The stories of veterinarean James Herriot, who wrote "All Creatures Great and Small" and died 20 years ago today aged 79, remain immensely popular and they attract many tourists to Yorkshire but they did not make him a fortune.
He told me: "I've made vast amounts of money but in this country they take it all away from you. I mean, I pay 83% in income tax so it doesn't leave a lot. It's made things a wee bit more comfortable but you can't get rich now, not in England."
That was in 1979 when I interviewed him for TV Guide Canada. His real name was James Alfred Wight and he told me that his inspiration came one day when he finished his pint of McEwan's Export ale and strode from the Three Tuns public house into the quiet Yorkshire evening. Once more, the villagers of Thirsk in the North Riding had supped their bitter entranced with his yarns about life as a country veterinarean in the 1930s.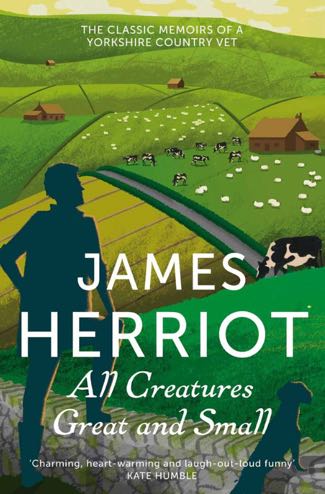 With Don, a large black Labrador, and Hector, a Jack Russell terrier, at his heels, he arrived home and declared: "I'm going to write a book." Joan Wight, his wife of 25 years, had heard that before. She smiled indulgently and said, "Old vets of 50 don't start writing books."
Twelve years later, the author told me, "I suppose she had a point but that sort of nettled me into it. I kept talking about the fact that I would write one day and then she made that remark." His voice still had traces of a youth spent in Glasgow. "It made me think, well, right, I'll show her. So I rushed out and bought a lot of paper and I started to write."
Writing did not come easy: "The hardest thing was to realise that I couldn't write. Aye, that was a nasty blow. When I'd written it down, I realised it was just terrible, you see. It was rather like a child's school essay. Great, long balanced sentences that nobody in his right senses would ever think of paying money to read.
"Since they were supposed to be lighthearted books, I had to evolve some sort of light, conversational style. You've heard the phrase 'artful artlessness'? That's what I aimed at and it was damned hard work. I rewrote again and again. I think I was always regarded as something of a raconteur but on holiday I couldn't even write postcards. My wife always wrote them for me."
The eventual result was a novel titled "If Only They Could Talk", a charmingly rustic and amusing account of Wight's own introduction into the quaint and curious ways of farmers in the rolling hills of Yorkshire's Pennine country before World War II with a combustible older partner he calls in his books Siegfried Farnon.
It led to another book, "It Shouldn't Happen to a Vet" and they both sold comfortably. But then an American publisher picked them up and packaged them as one under the inspired title of "All Creatures Great and Small", and remarkable things began to happen remarkably fast.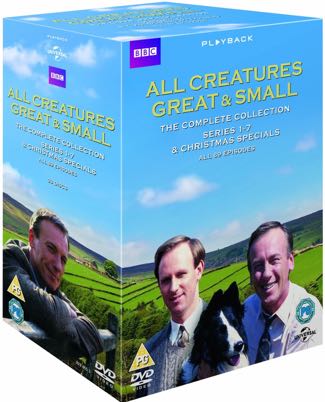 Herriot said, "The books were more or less limping along here and then they found out I was a bestseller in the United States and they began to take a bit of notice at home." More books followed, packaged in the States as "All Things Bright and Beautiful" and "All Things Wise and Wonderful".
Anthony Hopkins starred as Siegfried Farnon in a feature film, "All Things Great and Small" in 1975 with Simon Ward as Herriot and "It Shouldn't Happen to a Vet" (1977) starred John Alderton as Herriot with Colin Blakely as Siegfried. In 1977, BBC-TV launched a 13-part series of "All Creatures Great and Small" with Robert Hardy as Siegfried and Christopher Timothy as Herriot. It reached an audience of 19 million every Sunday night and ran on and off until 1990 and is still available on DVD.
When I interviewed him, he was, at 62, still a full-time working veterinarean, still in partnership with Siegfried (he had given up hiding his own identity by not Siegfried's). Herriot said, "I've been inveigled to go to a tax haven. There's not many of me left in this country, Most bestselling authours are away in Ireland, where they pay no tax at all; in Jersey, where they pay 10%; or on the Isle of Mann, where it's much the same. But I stay here and pay my 83%. I like it here."
Little wonder. Pennine country is spectacular. There are no massive peaks but the high grassy hills are magnificent. He said: "I like to get up into the hills. About my only pleasure pursuit these days is dog-walking. I've always carried two of them around in the car. The terrier died recently but I've still the Labrador. One of the nicest things about my job is to be able to stop, get out of the car and walk along the top of a hill with the dog. The countryside around here is practically unchanged."
His stories traveled widely but Herriot was content to stay at home, he said: "I've done two tours of the States and I've had many invitations to go to Canada, New Zealand and Australia, but when I do these rather exhausting publicity tours, I come straight back, put my gumboots on and get back to my veterinary work. It's a bit much, so I've opted out of all that."
He never wrote about modern times and he was nostalgic for the old days, he said: "When science comes in, the fun goes out. In those old days, we were a very unscientific profession and farmers were unscientific people. There's always fun in dealing with animals but there's nothing like 30 years ago – the lovely old characters with their witchcraft cures and their bigotries, all their funny old ideas. And the funny old vets, too. Bigger farms today are run by very clever, very knowledgeable young farmers. They're a lot more efficient than their forefathers were but they're not nearly as interesting."