Among the more curious things I discovered living in Tennessee in the mid-1980s was that one of the most popular entertainment figures in Memphis was the English comedy actor John Inman, who died this morning aged 71.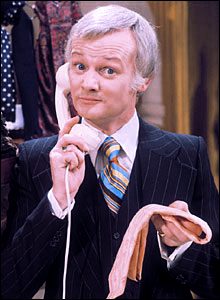 It was very odd to be in Dillard's department store in the city of Graceland and to hear someone in a mid-South accent call out "I'm free!"
Inman's series "Are You Being Served?" was hugely popular in syndication in middle America and he attracted large crowds doing personal appearances.
The show ran on the BBC from 1972 to 1985 and is available in several DVDs, mostly on BBC Warner.
Inman's character on the show, Mr. Humphries, became one of TV's best-known characters, and in 1976 he was voted funniest man on television by TV Times readers and personality of the year on the BBC.