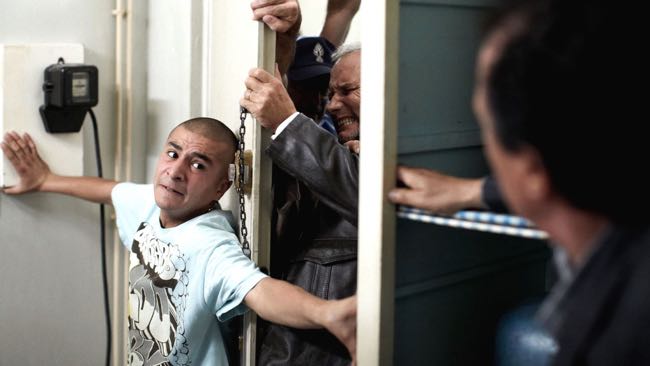 By Ray Bennett
BERLIN – Angelo Cianci's "Top Floor, Left Wing" is a genial urban comedy about an Algerian father and son who end up holding a bailiff hostage when the boy thinks police have come to their apartment building to look for him.
Early events turn out not to be a serious as they seem in a film that takes a benign look at what it takes to get by in the present day with rundown accommodations and a social system that is as inept as it is well-intentioned. Box office prospects look good in French-speaking territories and the film's comic take on society's view of drugs, terrorism and urban housing might also give it legs elsewhere.
The picture begins with cross cuts of several characters as they begin their day including a group of police who arrive at an apartment building to help with a wedding in the community center. Meanwhile, bailiff Echeverria (Hippolyte Girardot) makes his daily round of collecting late payments and issuing threats of eviction.
Algerian ex-patriate Mohand (Fellag) is far behind on his rent and when the bailiff starts to inventory the place to see what might be sold, Mohand's volatile son Salem (Aymen Saidi) gets edgy. When he sees all the police, he starts to panic.
It turns out he's holding 5 kilos of cocaine for a local dealer and the man wants it back. Feeling trapped and with little respect for his docile father, Salem takes out a gun and ties up the bailiff. Much argument ensues and the gun goes off, which does bring the police and soon the deputy mayor has brought in the SWAT team and a major standoff develops.
Writer and director Cianci has a good deal of fun with the fussy conflicts of the officials outside, especially when Echeverria's unhappy wife Anna (Judith Henry) shows up for the TV cameras gathered there.
The hostage and his two reluctant kidnappers turn out to have secrets that are revealed gradually and some sort of bond is established despite their predicament. Dad isn't the pushover that his son thought he was, and the boy turns out to be not quite as stupid as he first appeared. The bailiff also is much more than simply a man who is cruel to poor people for a living.
The plight of the threesome escalates as police, media and crowds gather but the film is clearly on the side of the oppressed as it becomes apparent that their best chance of resolving the crisis is to kick off a general riot in the area. With several neighbors sympathetic to their cause, the comedy builds to an "Italian Job" climax that will leave audiences with a smile.
Venue: Berlin International Film Festival, Panorama; Cast: Hippolyte Girardot, Fellag, Aymen Saidi; Director, screenwriter: Angelo Cianci; Director of photography: Laurent Brunet; Production designer: Christina Schaffer; Music: Gast Waltzing; Editor: Raphaele Urtin; Production: Tu Vas Voir, Iris Productions, Kasso Inc.; Sales: Memento Films International; Not rated; running time, 93 minutes.
This review appeared in The Hollywood Reporter.