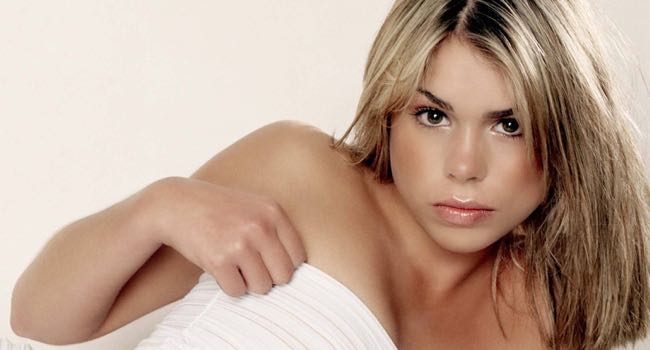 By Ray Bennett
Chrissy Skinns, producer of the new Billie Piper series "Secret Diary of a Call Girl," which debuts tonight on ITV2, insists that the show's depiction of prostitution as something fun, glamorous and relatively carefree is an accurate one.
In the promotional material, she tells of doing research for the show's central character, Belle, and meeting many women who were quite happy on the job.
Skins says, "What really came across in the main was that the women at this end of the market had chosen to be hookers, they weren't on drugs or forced into it, which is, of course, another side of prostitution. We're not pretending that doesn't exist; it's just not what our 'Belle' is about. The women we talked to genuinely liked their profession."
Obviously she's never seen Channel 4's "Sex Traffic." Here's my review from The Hollywood Reporter:
LONDON — By most accounts, the life of a prostitute is desperate and vile, despite such absurd male fantasies as "Pretty Woman" and "The Best Little Whorehouse in Texas." The new U.K. series "The Secret Diary of a Call Girl" also puts a shiny gloss on commercial life between the sheets, but this time it's created by women.
Billie Piper from "Doctor Who" plays Belle, a character based on an anonymous blog and subsequent book by someone claiming to be a happy and successful call girl in London. Produced by Chrissy Skinns, the show was created by Lucy Prebble, who also wrote four of the eight episodes. Documentary outfit Silver Apples optioned the property and took it to IMG's Tiger Aspect, which produced the half-hour show for ITV.
You would hope the result might be thoughtful and revealing, but the series is really just a tame peep show for fans who think Piper is a cutie. She is an "escort girl" who dresses in sex-shop lingerie and undresses quite a bit. In each episode she encounters a new "client" provided for her by her female "agent." No johns and pimps in this joint.
Belle speaks directly to the camera most of the time, making statements that are supposed to be bold and candid, such as, "The first thing you should know about me is that I am a whore." She happily provides props for her sessions, mostly sex toys and riding crops and saddles when required.
Belle prides herself on being a complete professional, which apparently means a life of bookkeeping and personal hygiene. She's lost count of the men she's "slept" with — and when a callow customer fails to rise to the occasion, she says it's a first. She's not sure how to handle things, though, when another client, a bearded doofus with a bad Russian accent, takes her to an orgy and then becomes possessive.
Such scenes cry out for some kind of wit, but that is seriously lacking. Piper milks what she can from trite dialogue by raising her eyebrows to the camera or simply leering. The show would benefit from some notion of sensuality to go with its portrait of a woman who supposedly enjoys sex so much. The orgy sequence is cretinous and banal, with the Russian guy salivating over a woman doing a striptease by bursting balloons tied to her knickers.
Piper makes a game attempt at being sexy, but her character is dull and hackneyed. Many of her TV customers might want their money back.
Read the full review and here's more about the series and info on 'Sex Traffic'