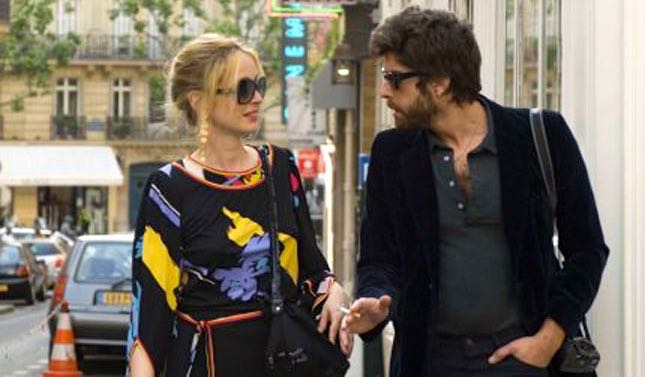 By Ray Bennett
BERLIN – Lovers in the city of romance. Jack's American; Marion's French. He's a hypochondriac; she worries about the state of the world. He's an interior designer; she's a photographer. He's in a foreign city, and she's back where she grew up. Everywhere she runs into old lovers. Jealous? Jack?
Julie Delpy has written, edited, directed and written the music for "Two Days in Paris," and as director she is well served by the other three, not to mention being smart enough to cast herself as Marion and the ineffably winning Adam Goldberg as Jack.
The result is an utterly charming comedy of sexual manners that should do very well wherever audiences appreciate savvy dialogue and smart, observational filmmaking.
The two lovers are returning from a vacation in Venice, heading back to New York where they live, but stopping in Paris for a couple of days and nights of romance. In a voiceover, Marion says their relationship has the usual ups and downs, and it's soon evident that key to their union is a shared sense of very quirky humor.
Waiting in a line for a cab, Jack is pestered by a vocal American woman who explains that she and her companions are "Code"-breakers and asks if he can direct them to the Louvre. Jack blithely sends them off on foot to the suburbs, thus saving the museum from another assault by Dan Brown fans, and reducing the length of the queue.
They are staying at Marion's old apartment, which she has kept not least because it's two floors up from where her mother and father live and they take care of it. The pipes are leaky, and Jack fears the place is a Petri dish for allergens, but they settle in, arguing all the way in their friendly, flirty way.
Marion's mother (Marie Pillet) and father (Albert Delpy, Julie's real dad) tease Jack mercilessly, but he gives as good as he gets, although he doesn't think so. The only genuine embarrassment is when her sister Rose (Aleksia Landeau) produces a picture Marion took of Jack when he was naked apart from helium balloons attached to his genitalia.
The 48-hour stopover soon seems destined to introduce Jack to the myriad ways that beautiful French women attract and deal with the attentions of men, sometimes smooth but often crude. When several of the men they run into are revealed as Marion's ex-lovers, their relative states of mind regarding love and fidelity are tested to the utmost.
Delpy writes very well and many of the jokes and lines are extremely funny. She handles actors well, and there's an amusing cameo by Daniel Bruhl as an otherwise agreeable animal rights activist with a grudge against fast-food restaurants. Delpy has genuine comic chops and Goldberg handles every situation with the New York equivalent of Hugh Grant's insouciance. Together they do nothing to rob Paris of its reputation for joyful romantic adventures.
Venue: Berlin International Film Festival; Cast: Julie Delpy; Adam Goldberg; Daniel Bruhl; Marie Pillet; Albert Delpy; Aleksia Landeau; Adan Jodorowsky; Ludovic Berthillot; Director, writer, editor and composer: Julie Delpy; Director of photography: Lubomir Bakchev; Production designer: Soraya Mangin; Costume designer: Stephan Rollot; Producers: Christophe Mazodier, Julie Delpy, Thierry Potok; Production: Polaris Films, Rezo Films International; Not rated; running time, 93 minutes.
This review appeared in The Hollywood Reporter.