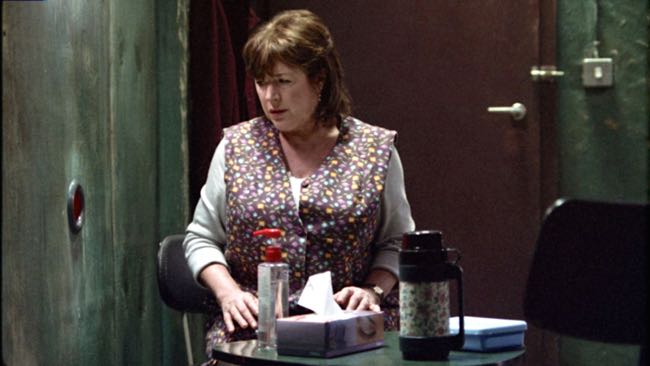 By Ray Bennett
BERLIN – Marianne Faithfull (pictured) is unforgettable as a middle-class, middle-aged frump who takes a job at a sex club in order to raise enough money for her grandson's life-saving operation in Sam Garbarski's crowd-pleasing comedy-drama "Irina Palm."
Cheers and applause erupted following the Berlinale press screening Tuesday, and that reaction should accompany this competition film on the way to awards and audiences everywhere.
Mixing pathos and comedy expertly, with many funny lines, the screenplay by Martin Herron and Philippe Blasband, based on an original script by Blasband, shows a knowing hand in scenes involving stuffy Little England villagers and the cynical operators of the sex business in London's Soho.
The situation is established quickly. Maggie's small grandson Olly (Corey Burke) will die unless he gets to Australia for an operation that's only available in Melbourne. The treatment is free, but it will take £6,000 for Maggie's son Tom (Kevin Bishop) and his wife Sarah (Siobhan Hewlett) to get him there.
The boy's parents are broke and Maggie, a widow, already has sold her home to pay for Olly's treatment. Turned down by her bank and employment agencies, Maggie spots a job offer for a hostess in a Soho doorway.
Full of trepidation, she enters a world she has never experienced and of which she has not the slightest knowledge. In a very funny scene, the world-weary Eastern European club owner, Miki (Miki Manojlovic), patiently explains that "hostess" is a euphemism for "whore." He examines her smooth hands and says she could make a lot of money by masturbating men that she wouldn't see as they placed their organs through a hole in the wall.
Outraged, Maggie flees. But seeing once again how distraught her family is, she returns and takes the job. Another sex worker, Luisa (Dorka Gryllus), patiently instructs her in the techniques of the job: "The first time is embarrassing, but after that you'll wank for England."
Miki gives Maggie her own booth and the professional name Irina Palm, and soon men are lining up for her exceptional ministrations. She even decorates her little booth with pictures and knickknacks from home. With the promise of making a lot of money, Maggie decides to keep doing it though she is desperate to make sure no one in her family or her village finds out what she's doing.
That, of course, is where the tension lies as both her son and the prissy members of her bridge foursome become ever more curious about her daily activities in the city. The inevitable revelation and the various reactions to it are hilarious, sad and warming. The only discordant note in the picture is in Tom's behavior when learning of his mother's sacrifice, but it does serve to heighten the response of Sarah and the other women.
The film's guitar score by Ghinzu does much to amplify Maggie's path from obeying conventional mores to casting away worries about what people will think. Garbarski does not shrink from the harsh realities of the sex industry, but he also takes time to develop an unlikely romance between Maggie and Miki.
Manojlovic deserves high praise for his handling of the club owner's reluctant corruption, but it is Faithfull's compassionate and knowing performance that will leave audiences smiling.
Venue: Berlin International Film Festival; Cast: Marianne Faithfull; Miki Manojlovic; Kevin Bishop, Siobhan Hewlett, Dorka Gryllus, Jenny Agutter, Corey Burke, Meg Wynn-Owen, Susan Hitch; Director: Sam Garbarski; Writers: Martin Herron, Philippe Blasband, based on an original script by: Philippe Blasband; Director of photography: Christophe Beaucarne; Production designer: Veronique Sacrez; Music: Ghinzu
Costume designer: Anushia Nieradzik; Editor: Ludo Troch; Producer: Sebastien Delloye; Production: Entre Chien et Loup, Pyramide International; Not rated; running time, 103 minutes.
This review appeared in The Hollywood Reporter.