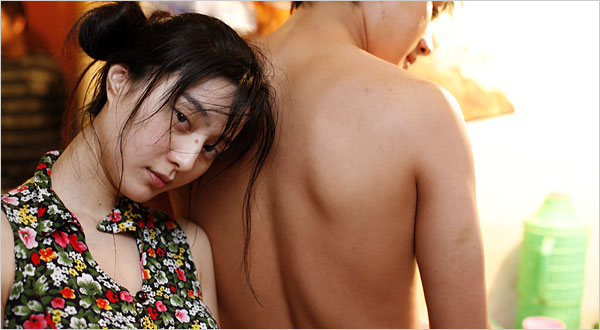 By Ray Bennett
BERLIN – "Lost in Beijing" might have the Chinese censors trying to wield their scissors, but Yu Li's muddled sex drama is unlikely to cause an uproar, or make much of a stir, anywhere else.
Film Distribution, which is handling world sales, apparently screened the same uncut version to critics Friday as had been shown to buyers at the Berlin Market earlier in the week. The film, which is In Competition here, deals with the rape of a young woman by her boss, her subsequent pregnancy and a tussle over who ends up with the baby.
It's easy to imagine a repressive society not wanting to flaunt such matters, including a planned abortion, but filmgoers elsewhere will have seen much worse. Curiosity based on the censorship controversy might boost interest in the film, but otherwise it will linger mostly at festivals and art houses.
If "Beijing" shows a modern slice of Chinese life, then it's dismaying to see that things never change. Liu Pingguo (Bingbing Fan, pictured) is a young foot masseuse with a good job and a husband, An Kun (Dawei Tong), who works as a window cleaner on high-rise buildings.
At an office party, she gets drunk, and her even drunker boss, Lin Dong (Tony Leung), makes a heavy pass that leads to rape. The young woman's husband sees it happen from his window-cleaning platform outside.
Furious, the husband attacks the boss but ends up taking out his anger on his wife. When Liu finds she is pregnant, she immediately opts for an abortion, but An decides it would be a better idea to claim that the rapist fathered the child and they should blackmail him.
This dramatic leap doesn't appear to shock anyone and nor does the boss' reaction. Long married to the elegant, beautiful Wang Mei (Elaine Jin), Lin is desperate to be a father and so makes a deal with the young couple that he will pay a lot of money in order to keep the child.
The script by first-time director Yu Li and producer Li Fang introduces some degree of subtlety in the responses of the four principals, but the plot doesn't really hold up. The young husband is the only one who knows that he is really the father of the child, but by the time he changes his mind and decides he is willing to spurn the money for the baby, things have gotten out of hand.
The cast does well, though the demands of sudden changes of emotion are a bit overwhelming. Jin creates a calm center with her poised performance as the childless and betrayed older woman.
Beijing itself is not made to look very attractive, but perhaps that's the mood the young filmmaker wishes to establish — and perhaps that has not eased her run-in with the Chinese authorities.
Venue: Berlin International Film Festival; Cast: Tony Leung, Bingbing Fan, Dawei Tong, Elaine Jin, Meihuizi Zeng; Director: Li Yu; Writers: Fang Li, Li Yu; Director of photography: Yu Wang; Production designer: Liu Weixin Liu; Music: Peyman Yazdanian; Editor: Jian Zeng; Producer: Li Fang; Production: Laurel Films; Not rated; running time, 112 minutes.
This review appeared in The Hollywood Reporter.