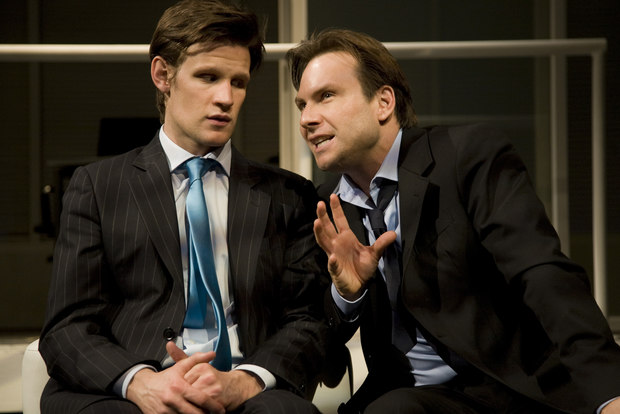 By Ray Bennett
Hollywood loves to think its corporate monsters are worse than in any other business, as George Huang demonstrated in his scabrous 1994 film "Swimming With Sharks".
Now, British writer Michael Lesslie has rendered the story onstage and Christian Slater (pictured right with Matt Smith) provides the fireworks as the production executive from hell played in the film by Kevin Spacey.
It's not subtle, but the story of schlock producer Buddy Ackerman (Slater) and his corruption of an idealistic young film school graduate named Guy (Smith) is an entertaining depiction of cutthroat office politics at its worst.
On a gleaming set of sterile desks, chairs and white couches, director Wilson Milam sets a fierce pace as a bumptious young opportunist named Rex (Arthur Darvill), who has won a promotion, gives wide-eyed Guy the lowdown on life as a big-time power broker's assistant.
This includes long hours when he must pay constant attention to 40 telephone lines and he must fetch everything from coffee with the correct sweetener to the latest empty-headed starlet in the lobby for Ackerman's pleasure. The fast-talking and deeply cynical executive believes that blood on the lens sells motion pictures and is responsible for a series of gorefests that have kept the studio in profit.
The industry is going through changes, however, with young independent filmmakers daring to try serious drama. When indie producer Dawn Lockard (Helen Baxendale) brings in a hot new script to pitch, Ackerman turns it down, but ambitious Guy is determined to help make it work.
There's history between the ruthless executive and the woman, so when Guy falls in love with her, it sets in motion a triangular power play with devastating results.
Huang based his movie on his experiences working as an assistant to assorted bullies at various studios, and the play retains much of the crude but colorful language he gave to the shrewd but outrageously vulgar showman.
Slater might not have Spacey's sly calculation, but he gives a bravura performance and he uses his knowing grin to put across Ackerman's more extreme behavior. He's thoroughly credible when the apparently heartless producer is suddenly persuaded of the merit of quality filmmaking and when he invents movingly the loss of a loved one.
Smith is effective in showing the young assistant's growth from a gangly and awkward kid who can name every best picture winner at the Academy Awards to a smooth operator who knows how to break down a screenplay and put a budget figure on it. Baxendale stands up to Smith's energy and Slater's star power with admirable strength.
Designer Dick Bird's clinical set establishes a soulless environment helped by Stephen Warbeck's incisive musical punctuation. Sound designer Matt McKenzie, however, might have made the gunshots, when they come, more emphatic and startling.
The Hollywood Reporter features twice in the production in scenes of torture. First, when Ackerman orders his assistant to find and tear up every single copy of an edition carrying an unflattering story about him and secondly when Guy uses a copy to literally draw blood. Nice to see.
Venue: Vaudeville Theatre, runs through Jan. 19; Cast: Christian Slater; Helen Baxendale; Matt Smith; Elizabeth Croft; Arthur Darvill; Mark Edel-Hunt; Jonathan Newth; Fanos Xenofos; Playwright: George Huang; Adapted by: Michael Lesslie; Director Wilson Milam; Set designer: Dick Bird; Lighting designer: Paul Anderson; Music: Stephen Warbeck; Sound designer: Matt McKenzie; Presented by CMP, Nica Burns, Max Weitzenhoffer for Nimax Theatres, the Weinstein Co., Old Vic Prods., Ian Lenegan and Ian Osborne
This review appeared in The Hollywood Reporter