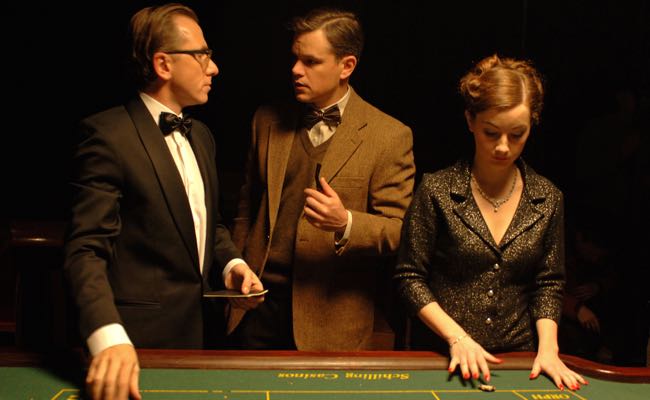 By Ray Bennett
LONDON – It has been 10 years since Oscar-winning director Francis Ford Coppola last worked behind the camera, but high expectations for his new feature "Youth Without Youth," which screened Sunday at the RomaCinemaFest, are dashed as it proves to be a muddled fantasy about the transmigration of souls.
Handsomely made on a low budget, the film has the polished look of a Coppola film with expert contributions from some master craftsmen. But the story is full of arcane references that many will find nonsensical, and the performances are a letdown. Lacking coherence and suspense, the picture is likely to attract a cult following while disappointing Coppola's fan base.
Tim Roth (pictured, left, with uncredited Matt Damon as a reporter) plays an elderly linguistics scholar who is struck by lightning and not only begins to grow younger but also can master languages he never knew. Beginning in Bucharest, Romania, in 1938, the story has Nazi spies, fascists and a beautiful young woman who also is struck by lightning. She, however, is turned into a seventh century disciple of Chandrakirti who can speak ancient tongues and starts aging at a furious rate.
The far-fetched tale relates the strange events that overtake 70-year-old Dominic (Roth) after he is struck by lightning while planning suicide. Delighted to learn that he is getting younger, he is troubled to discover he has a double that materializes with evil intent. Dominic is further alarmed by the attentions of a sexy Nazi spy known only as the Woman in Room 6 (Alexandra Pirici) and the evil Dr. Josef Rudolf (Andre M. Hennicke) who employs her.
The scholar flees to Switzerland and survives World War II. He continues his work until one day he encounters two young women who soon afterward run their car off the road in a storm. One of them, Veronica (Alexandra Maria Lara), survives, but having been struck by lightning she now speaks Sanskrit and calls herself Rupini.
Eventually Veronica re-emerges as herself, but Dominic not only believes she is Rupini reincarnated but he also falls in love with her. As he is getting younger by the day while she gets older, something has to give. Not to mention the meddlesome double.
Coppola's screenplay lurches from one extreme to the next, while as director he indulges unexceptional acting. Roth fails to establish Dominic as a vital character. His best screen outings are when he's animated by villainy, but here his doleful countenance sinks into the scholar's passive vulnerability.
Coppola is clearly captivated by the mystical contemplations of Romanian author Mircea Eliade, upon whose novella the film is based, but his fascination hasn't translated into a fascinating motion picture. Cinematographer Mihai Malaimare Jr. uses a static camera to capture production designer Calin Papura's atmospheric sets, while editor Walter Murch assembles it all with typical skill.
Cast: Tim Roth; Alexandra Maria Lara; Bruno Ganz; Alexandra Pirici; Andre M. Hennicke; Marcel Inures; Pintea; Florin Piersic Jr.; Zoltan Butuc; Adriana Titieni; Director, producer, screenwriter: Frances Ford Coppola; Based on the novella by: Mircea Eliade; Director of photography: Mihai Malaimare Jr.; Production designer: Calin Papura; Music: Osvaldo Golijov; Costume designer: Gloria Papura; Editor: Walter Murch; Executive producers: Anahid Nazarian, Fred Roos; Production: Sony Pictures Classics, American Zoetrope presents a SRG Atelier, Pricel and BIM Dsistribuzione production; MPAA rating: R; Running time, 124 minutes.
This review appeared in The Hollywood Reporter.