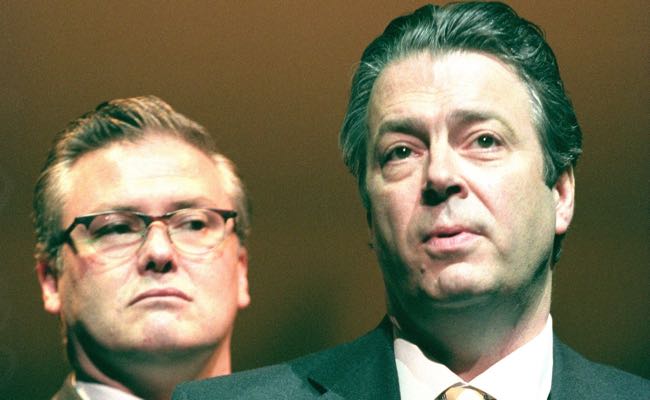 By Ray Bennett
LONDON – Michael Frayn's absorbing new play has a straightforward surface as it look at the years from 1969 to 1974 when Willy Brandt, played by Roger Allam, was chancellor of West Germany until he was brought down by an East German spy who worked as his personal assistant.
Frayn is both a humorist ("Noises Off") and a philosopher, however, and so those historical facts prompt him to explore how the machinations of high-level politics are matched by the drives, impulses and behavior of individuals.
Beneath its surface, "Democracy" is about the complexity of human beings and it suggests in both central characters – Brandt and his betrayer, Gunter Guillaume, played by Conreth Hall (pictured top left with Allam) – that any one individual contains all the lives that he or she might once have been or could be again.
Brandt himself is presented as an ambivalent man of many identities, several of which served him well during his exile from Germany during the Third Reich. The "clean hands" with which he returned, having fought the Nazis from outside, served him well as a leader but made his fellow politicians, whose allegiances were less transparent, suspicious of him.
Frayn's Brandt is a contemplative man, given to second-guessing himself although not when it comes to seducing as many admiring women as he can on the campaign trail nor in his view that treaties with East Germany and the Soviet Union were essential to future peace.
Guillaume, meanwhile, is the most successful espionage mole ever, establishing himself innocently in the west and only called upon to spy for the East German secret police when he lands a job with Brandt. An ingratiating if sometimes irritating toady, Guillaume makes himself indispensable to Brandt and while not ceasing to report to his Stasi masters, develops an increasing respect and affection for him.
Frayn uses a device in which Guillaume speaks over his shoulder to his control, who sits at a café at the side of the stage. Occasionally the spy joins his contact there while the action in Brandt's office continues. Director Michael Blakemore employs Peter J. Davison's twin-level set to great effect to further establish the divide between the characters' interior emotions and their external actions.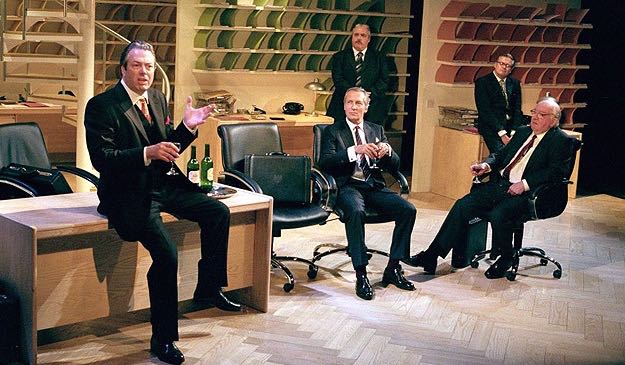 Swirling around the two principals is a roster of political matchmakers, wheeler-dealers and spin-meisters, all with their own ambitions and alliances. Frayn's scenes of nefarious politics are finely calibrated and there are clear echoes of the modern day White House and Downing Street.
Roger Allam is compelling as Brandt: charismatic when required to be and amiably lackluster in his most vulnerable moments. Allam's mastery of silence on stage is remarkable. Guillaume requires a quite different tone and Conleth Hill captures his unctuous manner so convincingly as to sometimes be off-putting, but it's a winning performance. The conniving politicos around them are played splendidly, especially by David Ryall as the wily old Herbert Wehner.
Frayn's stagecraft is wise and his ironies subtle, and "Democracy" deserves to be seen. The play only lacks a crucial tension because in the short term Brandt and the Soviets, and their East German puppets, wanted much the same thing. In the end, of course, Brandt was proven to be right and the world became a better place. Frayn's play is memorably instructive on how that came to be.
Venue: National Theatre, runs through Dec. 30; Cast: Roger Allam, Conleth Hill, Steven Pacey, Jonathan Coy, Paul Gregory, Paul Broughton, David Ryall, Glyn Grain, Nicholas Blane, Christopher Ettridge; Playwright: Michael Frayn; Director: Michael Blakemore; Set Designer: Peter J. Davison; Costume Designer: Sue Willmington; Lighting designer: Mark Henderson; Sound Designer: Neil Alexander; Company voice work: Patsy Rodenburg.
This review appeared in The Hollywood Reporter. Top photo by Conrad Blakemore.