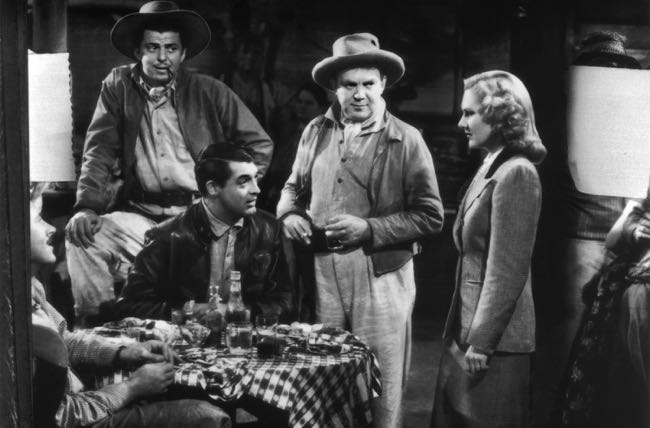 By Ray Bennett
LONDON – With a sparkling new 4K digital restoration, "Only Angels Have Wings", directed in 1939 by Howard Hawks and starring Cary Grant, Jean Arthur and Rita Hayworth, is back in UK cinemas thanks to distributor Park Circus.
Written by prolific former newspaperman Jules Furthman, whose credits include "To Have and Have Not", "The Big Sleep" and "Rio Bravo", it's an entertaining tale of flyboys who go up in rickety crates to deliver the mail in all kinds of weather in the Andes.
Though shot on a soundstage in black-and-white with the square Academy ratio, the art direction by Lionel Banks ("Mr. Smith Goes to Washington", "His Girl Friday"), cinematography by Joseph Walker ("It's a Wonderful Life", "It Happened One Night"), and visual effects by Roy Davidson ("Lost Horizon:, "The Outlaw") help Hawks spin a credible and exciting yarn about danger in the sky and heartbreak on the ground. Walker and Davidson were both nominated for Academy Awards for the picture.
Grant is impressive as Geoff Carter, the tough leader of a group of pilots who risk their lives constantly for their love of flying. Writer Furthman gives him and his crew the rough-and-ready fatalism of reporters as they deal with the death of one of their own.
Jean Arthur makes a delightful entrance as a spunky showgirl named Bonnie Lee who misses her boat because she's drinking with the fellas but is not afraid to put up in the ramshackle hotel where the fliers are based. She makes a play for Carter but he spurns her because he has already lost one love who ran off because he wouldn't quit his dangerous job.
There's a reason Carter insists that the mail gets through every day no matter the weather and things get more complicated when one of the men dies in a plane crash and a pilot with a bad reputation named Bat MacPherson (Richard Barthelmess) signs up to fly the mail.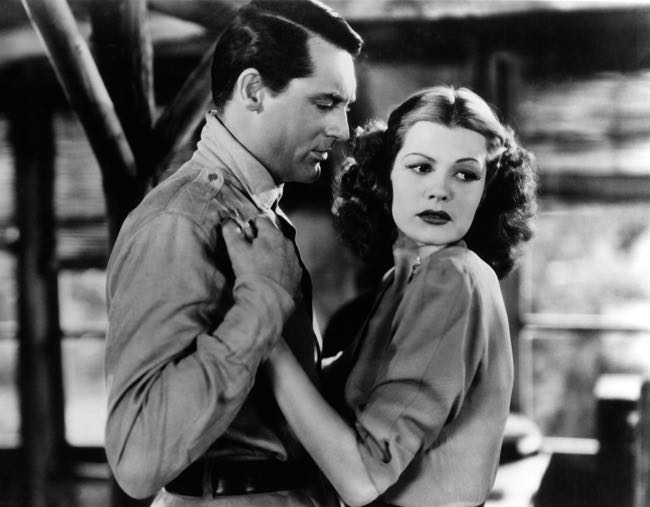 That breeds resentment among the men and it doesn't help that the new flyer's wife Judy, played by the young Rita Hayworth (with Grant above), is the reason Carter is bitter about women. Arnold steals all her scenes with her attractive playfulness but when Hayworth walks on, oh my. She's good, too.
The camaraderie of the men is depicted in sharp and funny scenes in which they scoff at the danger they face each day, and Hawks builds suspense with plausible effects of the planes, tailspins and crashes. There's a grand score by Dimitri Tiomkin.
Maybe it's not enough for teenagers who insist on Marvel CGI, but for movie lovers, it's a dandy picture with thrills and a tone that's thoroughly grownup.
The original nitrate picture negative and composite duplicate negative were used by Sony Pictures Entertainment at Colorworks for the 4K version. Cineric Inc. did the 4K scanning with digital image restoration by MTI film and sound restoration from the original soundrack negative by Chace Audio. They did a fine job.
Cast: Cary Grant, Jean Arthur, Rita Hayworth, Richard Barthelmess, Thomas Mitchell, Sig Ruman, Donald Barry, Noah Beery Jr., Allyn Joslyn, Victor Kilian, John Carroll; Director, producer: Howard Hawks; Writer: Jules Furthman; Director of photography: Joseph Walker; Art direction: Lionel Banks; Music: Dimitri Tiomkin; Editor: Viola Lawrence; Costume designer: Robert Kalloch; Special effects: Roy Davidson; Chief Pilot: Paul Mantz; running time, 121 minutes.