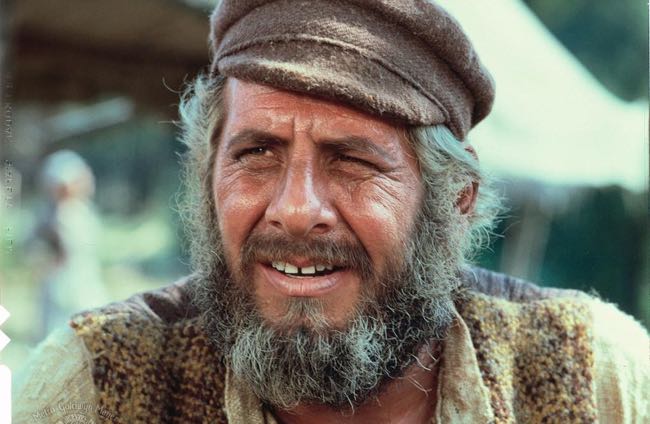 By Ray Bennett
LONDON – "Fiddler on the Roof' star Chaim Topol cancelled my interview with him in June 1967 but he had a very good reason. He left his starring role of Tevye in the West End hit production to return to Israel to fight in the Six-Day War.
The Israeli actor, who turns 80 today, had made tickets for the show at Her Majesty's Theatre in London's Haymarket almost impossible to find, but when his country faced peril, he didn't hesitate.
Right in the middle of his record-breaking run in the biggest hit the West End had seen in years, he took off to join his countrymen. Only when an uneasy peace was obtained did he return to the role of Sholem Aleichem's rascally Jewish milkman whose family is forced to emigrate from Tsarist Russia in 1905.
When our interview finally took place, fresh from the the conflict he had seen in Israel, the actor, who was 31 at the time, was filled with emotion about immigration, refugees and old traditions.
"They are subjects close to the heart of anyone who is not ignoring the problems now in the world," he told me backstage at Her Majesty's. "It's like 'Fiddler' – the problems faced by Tevye are not only Jewish problems – we suffered from them and we have had to find solutions. I hope we have. But they are world problems."
Why, then, did he choose to treat those problems in the show in such a humorous way?
"Because," he said, "they are such sad things and to digest them you need a spoonful of humour. Anyhow, I don't know another way."
Topol had come to London with the show after he starred in "Fiddler on the Roof" in Tel Aviv and he has continued to play Tevye around the world for much of his life including a stint on Broadway in 1990. The show won a Tony Award as best revival and he was nominated as best actor in a musical.
He told me, though, that he had not intended to become an actor. "When I was called up for the Israeli Army, people found me amusing in my camp. The officers thought I could be funny in other camps so they put me in the army theatre. I didn't want to go. I didn't want to be an actor. But, eventually, it seemed they were right and when I thought they were right, I decided to learn all I could about acting. They gave me a private teacher and I studied hard."
In 1971, when Canadian filmmaker Norman Jewison accepted an offer from United Artists to make a film of "Fiddler on the Roof", he accepted right away. He told me later, "I think I was more moved than I have ever been by any musical comedy form."
Jewison had seen Topol's 1967 film "Sallah" and saw him play Tevye in London. For three months he kept an open mind on casting, he said, before he decided that Topol was the man he wanted.
"Topol gives to Tevye a dignity I thought was lacking in certain other interpretations," Jewison told me. "But I must say that choosing was very difficult because I happen to think that Zero Mostel [who originated the role on Broadway] is a brilliantly creative actor and there were so many others, too."
The studio left the producer-director to make the call. It was never suggested that it might be a problem that Topol was little known outside of London and Tel Aviv. "No one told me not to cast him because of that. I feel to this day that no one in the world could have played Tevye as well was Topol does."
The film won three Academy Awards and Topol was nominated as best actor, losing to Gene Hackman for "The French Connection". He was named best actor in a motion picture musical or comedy at the Golden Globes.