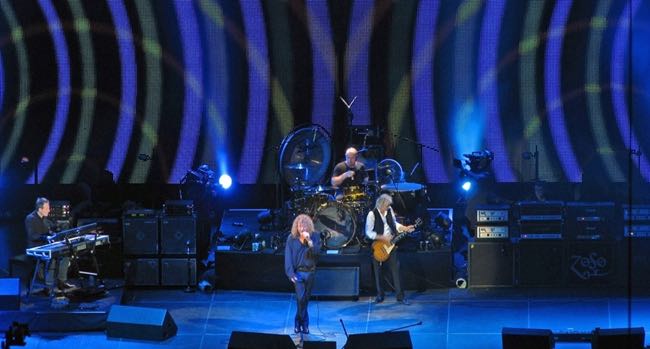 By Ray Bennett
Something about a dirigible
Led Zeppelin might be playing in their long-awaited reunion tonight at the big Ahmet Ertegun charity show but if there is any excitement inside the O2 Arena you wouldn't know it from the media centre.
Deep in the bowels of what was the Millennium Dome in east London, we're jammed into a drab windowless room with white walls and cafeteria tables where drones sit at computers filing about all the excitement.
The PR firm running the show ran out of badges and it took negotiations with a very officious security company before many of us were given wristbands from another event named Beige Brigade that they were prepared to recognize.
They've lumped radio reporters together with photographers and writers so I get to hear the guy from BBC Devon as he does his standup while I struggle with the internet communications.
An IT technician has been grappling with the single flat screen on which tonight's show is to be screened for the world's press. For a while there was an image from the BBC's quiz show "Mastermind" with no sound. Now Bill Wyman is playing with a synch delay between sound and picture and the gentle but steady hum of feedback. Tonight is going to be such fun.
The suspense builds …
The Bill Wyman set is followed by Paul Rodgers doing "All Right Now" and then Foreigner who perform "I Want to Know What Love Is" with St. Luke's Church of England choir from Portsmouth on Britain's south coast.
The crowd joins in too although in the media room the buzz is all about the celebrity guest list as the red carpet reporters breeze in reeling off the big names.
Marilyn Manson, David Gilmour of Pink Floyd, the Arctic Monkeys, Kate Moss, Oasis, Dave Grohl of the Foo Fighters, Roger Taylor of Queen, Prescilla and Lisa Marie Presley, Steve Winwood, Tony Banks from Genesis, and Jeri Hall are all in the house. Paris Hilton and Paul McCartney are said to be on their way. Separately, we're told.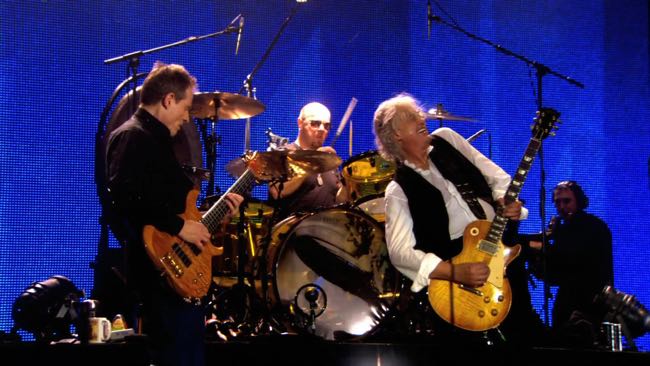 Time is falling away
The show opens right on time with a giant television set showing clips from U.S. TV as Led Zeppelin first toured the States and played Tampa Stadium.
Jimmy Page, 63, John Paul Jones, 61, and Robert Plant, 59 — original members of the band — blast on stage with drummer Jason Bonham, 41, who takes the place of his father, John Bonham, who died in 1980.
They begin with a brisk version of "Good Times, Bad Times" with Jimmy Page's guitar crisp and clear but Robert Plant's voice is cramped by feedback. Even on the flat screen, the stage is brilliant and the lighting looks great.
"Ramble On" follows and now Plant's microphone is working better and he sounds in good voice, growling and snapping just like he used to.
Page swings into "Black Dog" with Plant teasing the crowd while the guitarist chops left and right with industrial power. Classic blues chords summon a long dynamic delivery of "In My Time of Dying" and the years are falling away.
Paying tribute to their elders
Plant speaks of the "thousands and thousands of emotions that we've been going through for the last six weeks … and to be here tonight for Ahmet and with Jason here …"
He says, "This is our first adventure with this song," and the band plays "For Your Life" from their seventh studio album "Presence". It's the first time the song has been played live.
Plant pays tribute to blues singer Robert Johnson and his song "Temperance Blues" ahead of a lively encounter with "Trampled Under Foot" from the 1975 Zeppelin album "Physical Graffiti."
Blind Willie Johnson, the Staple Singers, and the Blind Boys of Alabama are each name checked by Plant as he introduces Johnson's "Nobody's Fault But Mine," also from "Presence".
No quarter asked and given
"No Quarter" from the Led Zeppelin's fifth album, which was always at the heart of their concerts back in the day, allows plenty of time for rumination on strings by lead Page with Jones on keyboard as Plant finds the glittering high notes of old. "Since I've Been Loving You" follows on.
Access has now been granted inside the auditorium just in time to hear Plant say: "It's peculiar to think of creating a dynamic evening and choosing songs from 10 albums, but there are certain songs that have to be here, and this is one of them … "
"Dazed and Confused" rules as Page uses a violin bow on his guitar to erect a cathedral of dissonance while the crowd roars. Another required number is "Stairway to Heaven", which Page plays on a double-necked instrument as Plant's surprisingly still supple voice glides on the legendary hit.
Now with a view of the stage it's possible to appreciate the excellent video display with multiple images behind the live players. Bonham at the drums looks beefy but fit. Jones is clean cut, all business on keyboards or bass. Page is stout with puffy features and frizzled hair.
Plant, whose visage is more familiar with all the publicity he's been doing for his "Raising Sand" album with Alison Krauss, appears like a well-fed Anglo Wild Bill Hickok, commanding the stage and still finding those elusive trills.
"The Song Remains the Same" keeps the crowd joyous and then Plant tips his hat to drummer Bonham for stepping into his father's shoes, leading into "Misty Mountain Hop".
All them good times …  
Thanking all the people who have come from more than 50 countries, Plant declares "This is the 51st country," and commences "Kashmir", which was the song most Led Zeppelin fans said they wanted to hear in a music magazine poll. It leaves the singer in tears and the audience, which has been long on its feet, hollers for more.
Back onstage, the encore takes the form inevitably of "Whole Lotta Love". At the end, Plant salutes Ertegun and Atlantic Records and says good night. It looks like it's all over but then they burst back for a rollicking version of "Rock and Roll".