By Ray Bennett
BERLIN – The fate of four would-be head-bangers in the crazy world of Iraq may not add up to a hill of beans but it's fodder for an engaging documentary by Canadian filmmakers Eddy Moretti and Suroosh Alvi titled "Heavy Metal in Baghdad."
It should play well at festivals and become a collectors' item on DVD.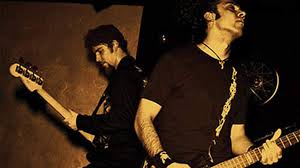 Tipped off by a magazine article about a band called Acrassicauda (black scorpion) attempting to play heavy metal concerts in the war-torn capital, Moretti and Alvi tracked them down and helped stage a ragged concert before a small group of dedicated fans.
All hell broke loose after that and they lost touch but the film shows their attempts a year later to track down the four young men who want to be like their heroes in Metallica, Slayer and Slipknot.
What the band lacks in musical talent it more than makes up for in enthusiasm although the film wisely keeps their playing to a minimum. Moretti handles the camera while Alvi asks the questions onscreen and it probably helps that his manner is jaunty as the places they visit in shell-shocked Baghdad are very scary.
The city's terrifying lack of security and the awful existence that Iraqis of all creeds are suffering become abundantly clear even after the foursome make their way to Damascus in Syria.
Their thoughts and observations about life in Iraq today are expressed in near-perfect American accents with endearing obscenities and mistakes in syntax. They seem much closer to the spirit of rock 'n' roll than the Rolling Stones in Martin Scorsese's "Shine a Light."
This review appeared in The Hollywood Reporter.