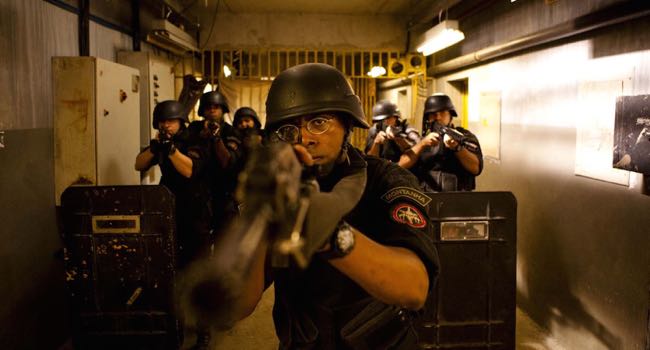 By Ray Bennett
BERLIN – In Jose Padilha's crude and violent film "The Elite Squad," the pope is visiting Rio de Janeiro and he needs a good night's sleep so the local police commander sends his crack troops into the closest slum to kill everybody.
Well, not everybody, but all the drug-dealing scum his specially trained officers can find and by any means possible, preferably a high-powered rifle. It means there will be blood and lots of it, all captured by a dizzying hand-held camera racing through some of the worst cases of urban blight on the planet.
Poorly structured and at times incoherent, what box office appeal the film has will rely on its sheer pace and the amount of torture and killing that goes on, so it should do fine.
The basic assumption of the script by Padilha and Rodrigo is that everyone in Rio is corrupt and especially the authorities. Policemen accept bribes for whatever pays the most: do their jobs or turn a blind eye. They even steal the engines from their own squad cars, sell them and put a piece of junk under the hood instead.
Capt. Nascimento (Wagner Moura) is a cop with integrity but it's driving him crazy as he risks his life daily battling bad guys in and out of uniform. Plus he has a pregnant wife at home who wishes he would quit.
He's trying hard to accommodate her wish but he needs to find a replacement to take over command of the elite squad. Since everyone else has been compromised he settles on two rookies who have been best friends since childhood, the brave but hair-triggered Neto (Ciao Junqueira) and the cautious but shrewd Matias (Andre Ramiro).
For some reason their work involves getting second jobs so that Neto works at the police auto shop while Matias goes to law school. Neto's commitment leads him to devise a way of intercepting payoffs drug dealers make to the local commander and using the money to supply the squad cars with desperately needed new parts.
Matias hides the fact that he's a cop from the other students including pretty Maria (Fernando Machado) and takes no action when they fire up joints.
Both situations lead to dangerous complications although the story is told in a confusing mix of time-shifting flashbacks and at the end there's still no sign of the pope.
Before they can join the elite squad, however, Neto and Matias have to make it through an odd sort of training camp that involves ritual humiliation. Then, they're handed high-powered rifles and sent into the slums to kill everybody.
Well, not everybody.
Venue: Berlin International Film Festival, In Competition; Cast: Wagner Moura; Andre Ramiro; Ciao Junqueira; Milhem Cortaz; Fernando Machado; Maria Ribeiro; Paulo Vilela; Fernando de Freitas; Andre Mauro; Fabio Lago; Producers: Marcos Prado, Jose Padilha; Director: Jose Padilha; Writers: Jose Padilha, Rodrigo Pimentel, Braulio Mantovani; Director of cinematography: Lula Carvalho; Production designer: Tule Peake; Music: Pedro Bromfman; Co-producers: Eliana Soarez, James D'Arcy; Costume designer: Claudia Kopke; Editor: Daniel Rezende. Executive producers: Maria Clara Ferreira, Bia Castro, Genna Terranova, Eduardo Constantini; The Weinstein Co.; No MPAA rating; running time 118 mins.
This review appeared in The Hollywood Reporter.