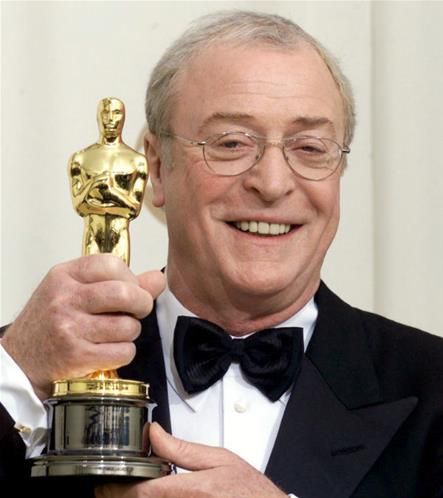 By Ray Bennett
Spending time with Michael Caine is always a pleasure and since today is his 86th birthday, here's one of my favourite encounters from 2000.
LOS ANGELES – It's ironic that the word on everyone's lips following Michael Caine's acceptance speech at the Oscars on Sunday is 'class'. It's a word he's been battling all his life.
As a Londoner from the wrong side of the tracks, dropping every 'h' and 'g' in his speech, Caine has run into Britain's "class" system at every turn. He has observed that while in the States he is recognised as a successful and critically acclaimed star, among the nobs of the U.K. cultural establishment, he's regarded as a 'Cockney yobbo'.
That's not true of the British public for whom Caine's magnanimous display toward his fellow nominees following his win as best supporting actor for 'The Cider House Rules' seems entirely in character. And it didn't seem to be the case at the annual tea part thrown by the British Academy of Film and Television Arts Los Angeles in Santa Monica on Saturday.
At one point, in quick succession, he was greeted by three venerable British film directors – Guy Green ('The Angry Silence'), Ronald Name ('Gambit') and Ken Annakin ('Those Magnificent Men in Their Flying Machines' – who were all quick to congratulate him on his performance in 'Cider House Rules'.
Caine's response was typical. 'Blimey, people ask me what's happened to the British film industry,' he grinned. 'It's right here in Santa Monica.'
Surrounded by hundreds of admires at the packed tea party, Caine recalled the last he won an Oscar for a supporting role in Woody Allen's 'Hannah and her Sisters' in 1986. He was in the Caribbean working on 'Jaws: the Revenge'.
'I'd gone down there to do a couple of days on the movie and it went over,' he said. 'The awards used to be on a Monday and I was back her on the Tuesday but I just couldn't get back in time. There were no planes, there was nothing.'
He didn't even get to hear his name called out. The only television set as hand had a dodgy antenna. 'I was fiddling with it and just as they said, 'The winner is …' it went crrrrzzzzldd. So I didn't know. But then I got a phone call immediately. My wife was ringing me so it was all right.'
He was determined to be in Hollywood this time. He completed 'Shiner', a new gangster boxing picture in London on March 17 and spent the week before the Oscars sitting by the pool. Soon, he heads to Austin, Texas, to begin rehearsals with Sandra Bullock for a comedy, 'Miss Congeniality'.
But he must return to England to receive a lifetime achievement award at the British Film Academy Awards on April 9. He will join a list of recipients that includes Sean Connery, Alfred Hitchcock and, last year, Elizabeth Taylor.
The presentation will cap a remarkable two years for Caine in which he received a Golden Globe, a Screen Actors Guild Award and his second Oscar. Many British actors and actresses have been favoured by the Academy over the years but Caine becomes only the second British male to pick up two acting Oscars joining Peter Ustinov, who won for 'Topkapi' and 'Spartacus'.
Not even Laurence Olivier managed that. Talk about class.
This column appeared in The Hollywood Reporter on March 27, 2000.