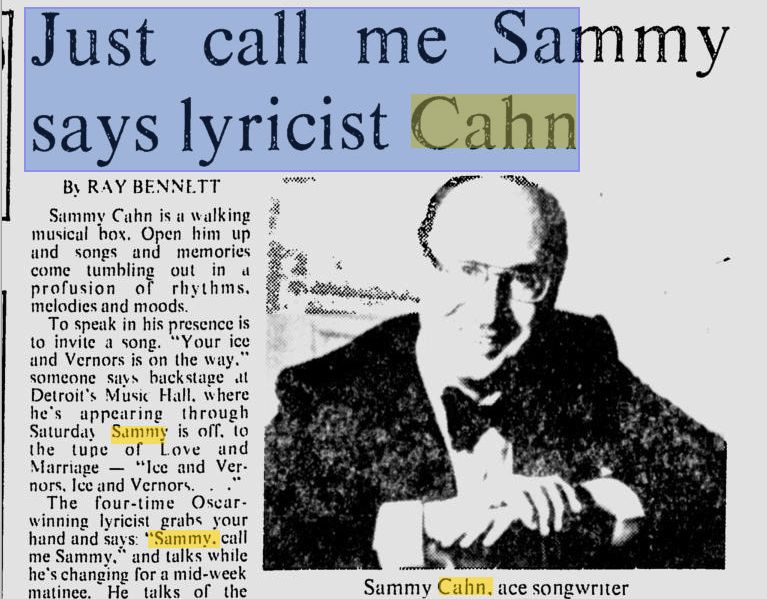 By Ray Bennett
Sammy Cahn was a walking musical box. Open him up and songs and memories came tumbling out in a profusion of rhythms, melodies and moods.
When I interview him in 1975, to speak in his presence is to invite a song. "Your ice and Vernors is on the way", someone says backstage at Detroit's Music Hall, where he's appearing through Saturday. Sammy is off, to the tune of "Love and Marriage" (which he wrote) – "Ice and Vernors, Ice and Vernors …"
The four-time Oscar-winning lyricist grabs your hand and says, "Sammy, call me Sammy," and talks while he changes for a mid-week matinee. He talks of the miracle of his being onstage at the age of 62, to terrific reviews, yet. And of his boyhood on the lowest part of the lower East Side of New York, of his bar mitzvah and ulcers at 13. "I really had ulcers," he insists. "Look, here's the scar."
It was at his bar mitzvah that Sammy, who had resisted his mother's wish for him to learn to play the violin without success, discovered that musicians, who seemed to enjoy their work, actually got paid to do it.
Soon, he was working with a small band and writing his first lyrics. "It was something terrible, like 'Niagara Falls, I'm falling for you', something crazy like that," he laughs.
For a man with such a felicitous turn of phrase, Sammy Cahn is remarkably down-to-earth about his talent and his achievements. He might be aware that he is one of a handful of great songwriters who have charted the course of most people's lives, but he gives no impression of it.
But he's immensely proud of his show, "Words and Music". "I'm positively ego-maniacal about the show," he volunteers, "whereas I'm not ego-maniacal at all about my songwriting."
Using scissors, he meticulously cuts out the latest press notices, he admits gleefully: "My reviews chuckle the hell out of me."
He says he has "an infinite storehouse" of his own lyrics but he says, "Something people don't grasp, although I try my best to indicate it, is that 90% of my work is my extra-curricular lyric writing. I write special lyrics for special occasions.
"I wrote special lyrics for, whatsisname, Sinatra, for the American Film Institute tributes to Jimmy Cagney and Orson Welles. Last week, a famous public relations outfit in Beverly Hills called me. They said one of their secretaries was leaving after 25 years and they wanted a song. They told me all about her and I wrote five pages of lyrics for them to sing at the party.
"Sinatra called me once to write a song for a "boy makes good" party for Spiro Agnew. I'm a Democrat and I didn't endorse Agnew, but I'll songs for anybody. Sinatra was a Democrat up until the Kennedys treated him badly. Frank's not an easy forgiver and the Kennedys treated him gracelessly. He'd done a lot for them and when they decided to stay at Bing Crosby's that time, instead of at Frank's, the least they could have done was call and say, hey, look, we gotta do this. They could have given him something to save face.
"I don't make my politics too public. Bob Hope made one big mistake in his career. He made a political decision. An entertainment person shouldn't do that. It's a mistake. Anyway, I wrote the song for Agnew but the party turned out not to be as private as Sinatra had indicated and the song made all the networks.
"A little later, I happened to be in Paris and ran into Pat Lawford and Rose Kennedy. Rose pointed a finger at me and she was made. "You wrote for Agnew!" she said. She wouldn't let me forget it."
The Cahn lyrics most of us remember, though, are the ones that go with tunes by Jule Styne, Jimmy Can Heusen and others. Songs like "Call Me Irresponsible", "All the Way" and "It's Magic!"
The list is endless and their titles form the basis of the script that Sammy uses in his show. "Everything that follows is based on fact," he says. "It's true that Saul Chaplin, for instance, who was my first collaborator, never wrote another song after we split up. He went on to become one of the finest musical arrangers in Hollywood.
"When I stepped onto the stage to receive my Oscar for 'Three Coins In the Fountain', the man right of me was Saul, who had won the Oscar for his arrangements for 'Seven Brides for Seven Brothers'. And then, a little while ago when I was in Paris, he called me from Hollywood to say he wanted me for a picture called 'That's Entertainment II'
"I said, 'Sure, you wanna song?' He said, no, he wanted me to be in the picture. I couldn't believe it. But I did it, and Gene Kelly was the director."
A version of this story appeared in The Windsor Star on Nov. 21 1975.