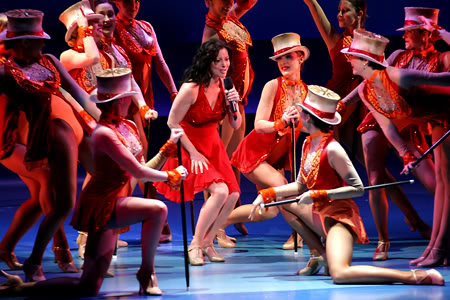 By Ray Bennett
LONDON – Singing Nazis are a tough sell unless its Mel Brooks producing laughs. So when the German officer in love with the title character in the new musical "Marguerite" starts to sing about his broken heart, it's difficult to sympathize.
With music by three-time Oscar-winning composer Michel Legrand ("Yentl," "Summer of '42," "The Thomas Crown Affair") and book and lyrics from the team that created the worldwide theatrical hit "Les Miserables," the show comes with a fine pedigree.
Drawn from the real-life story of a doomed 19th century courtesan who inspired Garbo's "Camille" and Nicole Kidman's character in "Moulin Rouge," it's set in occupied Paris during the Second World War.
Marguerite (Ruthie Henshall) is a colorful music hall performer turned society floozy who remains comfortable during France's Nazi occupation by becoming the mistress of indulgent German officer Otto (Alexander Hanson).
When an air-raid siren sends the rest of a blithely collaborating group of hangers-on to the shelters, Marguerite stays in the ballroom and falls in love with a poor but starry-eyed musician named Armand (Julian Ovenden). There's little suggestion of the tuberculosis that will later surface but things don't look promising.
The book by Alain Boublil, Claude-Michel Schonberg, and director Jonathan Kent and Herbert Kretzmer's adaptation of Boublil's original French lyrics establish a serious tone that compares the idle rich surviving the war quite handily while resistance fighters lurk in alleyways.
Legrand's music, too, is sober and portentous with little time for lively tunes or frivolity. Olivier Award-winner Henshall, who was in "Chicago" and "Miss Saigon" on Broadway, has genuine star quality but the courtesan's sudden fall for the musician is not convincing, and nor is the self-pity in her ballad "How Did I Get Where I Am?" late in the show.
Hanson has an impossible job as a warbling Wehrmacht while Ovenden treats the whole thing as if it's an epic and sends his pleasing voice soaring into the rafters at every opportunity.
The show has a fine look to it but with lyrics that rhyme "Germany" with "harmony" and dialogue that has Marguerite plead with her disappointed lover to "not make things harder than they are," it's tempting to wish for a stormtrooper chorus of "Springtime for Hitler."
Venue: Theatre Royal Haymarket, runs through Nov. 1; Cast: Ruthie Henshall, Julian Ovenden, Alexander Hanson, Simon Thomas, Annalene Beechey, Matt Cross, Andrew C. Wadsworth, Gay Soper, Keiron Crook; Music: Michel Legrand; Book: Alain Boublil, Claude-Michel Schonberg, Jonathan Kent; Lyrics: Herbert Kretzmer from original French lyrics by Alain Boublil; Director: Jonathan Kent; Choreographer: Arthur Pita; Set and costume designer: Paul Brown; Lighting designer: Mark Henderson; Sound designer: Paul Groothius.
This review appeared in The Hollywood Reporter.