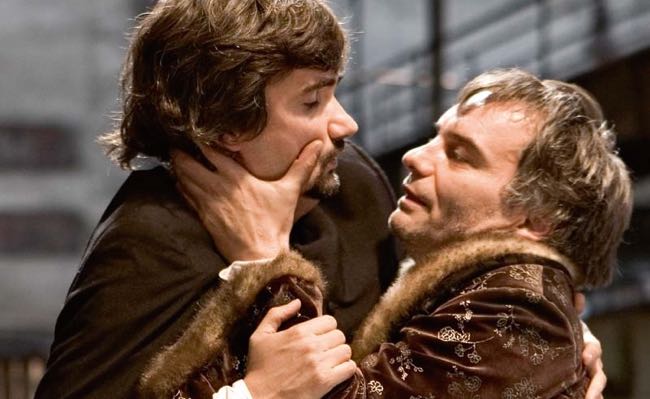 By Ray Bennett
KARLOVY VARY, Czech Republic – Fyodor Dostoevski's classic Russian novel about four brothers divided by the murder of their father forms the basis of Petr Zelenka's "The Karamazovs," which is a film about a play based on the book.
In the film, a dramatization of the book by Evald Schorm, which has been successfully directed at the Prague Dejvice Theatre by Lukas Hlavica, is taken on the road to be staged at an unusual venue — a local steelworks at a town in Poland.
The actors and theatrical company arrive at the factory under a government grant and the action of the film shows a complete run-through of the play with only a handful of spectators. One of them, however, is going through a terrible personal drama that puts the whole question of art into perspective.
Setting a classic literary tale in a broken down industrial structure helps to underline the story's exploration of family, faith and duty. Terrific performances by a fine cast flesh out the novel's characters and blending in a present-day incident provides added resonance. Art-house audiences will give it a very positive welcome.
Czech legend Ivan Trojan (pictured, right, with Martin Mysicka) leads the ensemble as the father of the Karamazov brothers and gives an insightful performance as a man who manipulates his sons with considerable malice. David Novotny, as the actor playing eldest son Dmitri, who is accused of his father's murder, is effective in and out of the play's role, as is Radek Holub, whose part is the epileptic, mischief-making youngest son.
Lenka Krobotova as the actress playing Grushenka and Michaela Badinkova, as Katerina, match the men for strength and a good understanding of the twin nature of their roles.
Andrzej Mastalerz plays a maintenance man whose son has fallen from a platform in the factory and is near death in the local hospital. The man knows he should be with his son but, wracked with guilt, he becomes mesmerized by the story being staged at his place of work.
Director Zelenka and cinematographer Alexander Surkala make very good use of the machine works in the factory and the many nooks and hideaways available. Never losing sight of Dostoevski's powerful statement about faith, the film raises significant questions about the complex relationship between art and its audience.
Venue: Karlovy Vary International Film Festival; Cast: Ivan Trojan, David Novotny, Igor Chmela, Martin Mysicka, Radek Holub, Lenka Krobotova, Michaela Badinkova, Roman Luknar, Andrzej Mastalerz, Adrianna Miara; Director: Petr Zelenka, based on the stage adaptation by Evald Schorm of the novel "The Brothers Karamazov" by Fyodor M. Dostoevsky; Director of photography: Alexander Surkala; Music: Jan A.P. Kaczmarek; Editor: Vladimir Barak; Producer: Cestmir Kopecky; Production: Prvni verejnopravni, CinemArt, Czech Television; Sales: Prvni verejnopravni; No MPAA rating; running time, 100 mins.
This review appeared in The Hollywood Reporter.