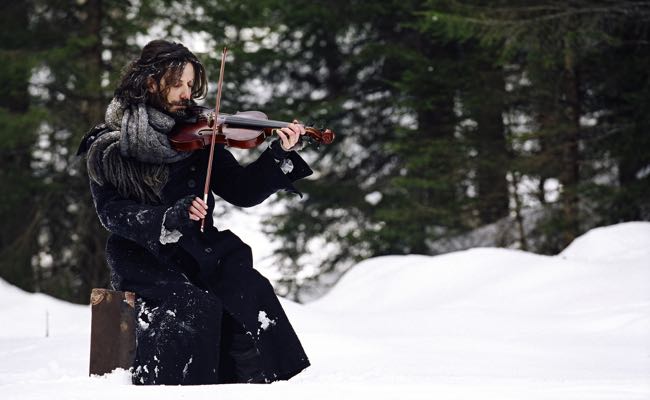 By Ray Bennett
LOCARNO, Switzerland – Italian director Alessandro Baricco's English-language "Lecture 21" is a treat for lovers of Beethoven's 9th Symphony and filmgoers who enjoy sumptuous images accompanied by splendid music.
The film explores the substance of a fictional lecture about the symphony given by a legendary professor named Mondrian Kilroy (John Hurt). It is illustrated by sublime sequences set in snow and ice, strange interviews with apparently long-deceased witnesses, and a dissertation by Kilroy that allows Hurt to once again demonstrate his remarkable acting prowess.
"Lecture 21" should hold classical music fans spellbound on the art-house circuit and its fine craftsmanship could attract awards at festivals with a long DVD life also likely.
The tale involves two stories, one of them relating the fate of a musician named Hans Peters (Noah Taylor, pictured) who dies in the snow, so frozen that he is buried with his violin. Before his death, he tussles with a curious Hoffmeister (Clive Russell) in a surrealistic debate about the creation and reception of Beethoven's "Ode to Joy."
The other thread follows Prof. Kilroy, who has disappeared after a career devoted to giving lectures on such arcane topics as curved objects, waves, the circularity of biblical writing, and boiled eggs. Martha (Leonor Watling, pictured below with Hurt), a young student bowled over by his peroration on Beethoven, seeks out the aging scholar and engages him in a discussion on the nature of art and old age.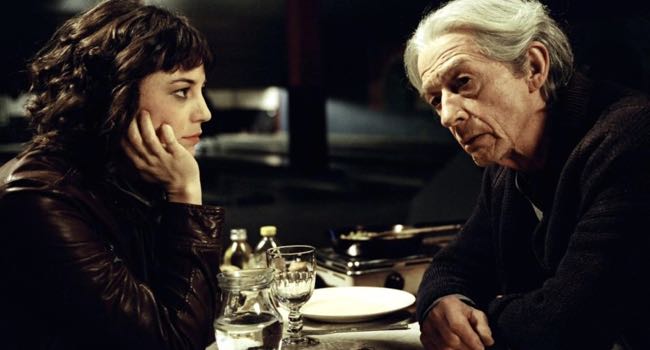 Both elements are accompanied by wonderful performances of not only Beethoven's 9th but also some of his piano sonatas and bits of Symphony No. 7 plus works by Vivaldi, Thalberg, Rossini, Scriabin and the elder Strauss.
Helped enormously by costume designer Carlo Poggioli, production designer Marta Maffucci and editor Giogio Franchini, cinematographer Gherardo Gossi delivers many stunning sequences to which writer and director Baricco has clearly given great thought.
The international cast, topped by Australia's Taylor, England's Russell and Spain's Watling, join Hurt as they give a human dimension to the contemplation of genius.
The film is a feast for the eyes from the opening scene in which black-robed pallbearers skate across an ice-field bearing a gleaming coffin, to a staged event involving an angel arriving to call the doomed musician away, to the young student's discovery of Kilroy in a dilapidated bowling alley. Above it all soars that marvelous music.
Venue: Locarno International Film Festival, Out of Competition; Cast: Noah Taylor, Clive Russell, Leonor Watling, John Hurt. Director: Alessandro Baricco; Writer: Alessandro Baricco; Director of photography: Gherardo Gossi; Production designer: Marta Maffucci; Costume designer: Carlo Poggioli; Editor: Giogio Franchini; Producer: Domenico Procacci; Production: Fandango, Potboiler Productions; Sales: Fandango Portobello Sales; No MPAA rating, running time 92 mins.
This review appeared in The Hollywood Reporter.