By Ray Bennett
The London Chop House in Detroit, Michigan, was a favorite spot for celebrity interviews on the publicity circuit, which was how I came to share a table one day in 1973 with Jo Don Baker and Richard Jaeckel.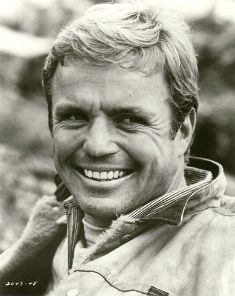 Baker, who later would appear in a couple of James Bond films ("The Living Daylights" and "Goldeneye") was a hot new star with the release of "Walking Tall" and "Charley Varrick," and now he was on tour to promote a routine crime picture titled "The Outfit." Robert Duvall was the lead but he was busy with "The Godfather Part II" and so the young hunk was sent out on the road.
Trouble was, Joe Don at the time was as articulate as Buford Pusser, the club-wielding lawman he played in "Walking Tall" and so the distributor sent Richard Jaeckel (left), an easy-going veteran character actor from scores of films, along to smooth the way.
This all came to mind watching the new Western "3:10 to Yuma" starring Russell Crowe as a charismatic killer and Christian Bale as a desperate rancher deputized to send him for trial by putting him on the train in the title.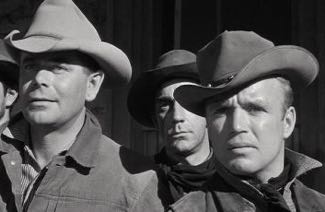 It's a good-looking piece of work with lively action and it features an impressive performance by Ben Foster (Russell Corwin in TV's "Six Feet Under") as a loyal but demented henchman named Charlie Prince. Glenn Ford played the bad guy in the original 1957 version of "3:10 to Yuma" with Van Heflin as the deputy.
Richard Jaeckel (pictured with Ford above) played Charlie Prince. It was one of a great many excellent supporting performances by the New York-born, California-raised actor following his 1943 debut in "Guadalcanal Diary."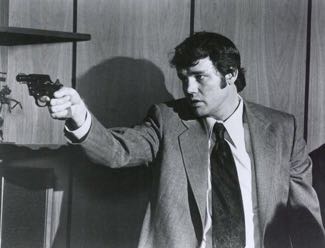 What sticks in the mind from that lunch at the London Chop House is that the conversation constantly spun off from Baker  and the new picture (left) to tales from Jaeckel about the early TV Westerns he guest-starred on including "Tales of Wells Fargo," "The Rebel," "Lawman," "Cimarron City," "Wagon Train," "Have Gun, Will Travel" and "Bonanza."
Jaeckel would tell a yarn that held me (and Baker) spellbound but then he'd interrupt himself to say, "But you're here to talk to Joe Don, not to hear these old stories." After a couple of questions directed at the inexperienced young actor, it wasn't difficult to draw out the veteran again.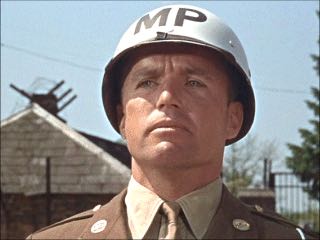 Jaeckel made another fine Western with Glenn Ford (and Jack Lemmon) titled "Cowboy" (1958) not to mention such classics as "The Gunfighter" (1950) with Gregory Peck; "Pat Garrett & Billy the Kid" (1973); and "Ulzana's Raid" (1972) with Burt Lancaster.
He played Lee Marvin's reliable sergeant in "The Dirty Dozen" (above) and he was Paul Newman's brother in the Oregon logging drama "Sometimes a Great Notion" (1971, pictured below) based on the novel by Ken Kesey.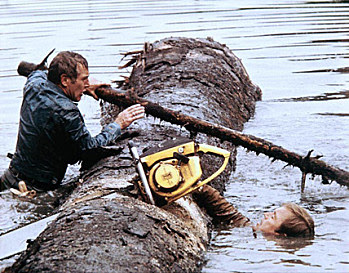 Newman had taken over as director after Richard A. Colla departed the picture, which co-starred Henry Fonda, Lee Remick and Michael Sarrazin.
In Jaeckel's big scene, his character is pinned by logs underwater while his brother attempts to save him. It was a seriously tense and moving sequence an it won Jaeckel his only Academy Award nomination.
Jaeckel did a lot more TV work in his later days, including regular roles on "Baywatch" and "Spenser for Hire." He died in 1997, aged 70, and Hollywood lost another great character actor.