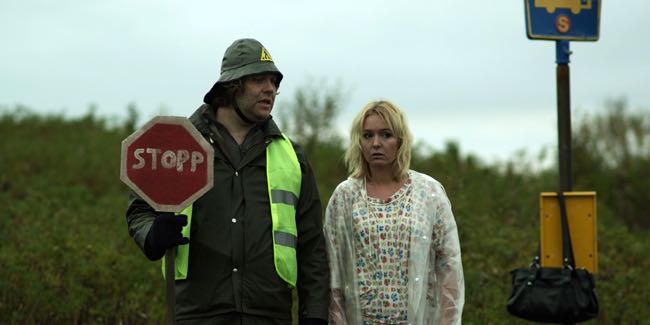 By Ray Bennett
LOCARNO, Switzerland – Danish filmmaker Valdis Oskarsdottir, who won the 2004 best editing prize at the BAFTA film awards for "Eternal Sunshine of the Spotless Mind," has created a winning concoction for her second feature, "King's Road", which had its world premiere at Locarno's Piazza Grande.
Set in a bedraggled trailer park in rural Iceland populated by a bunch of goofballs, eccentrics and sad sacks, it could be taken as a penetrating satire of all that went wrong in that country's financial meltdown as much as a genially whacky little romp.
With Daniel Bruhl adding some international star power and Oskarsdottir's reputation, the affectionate and amusing picture could generate considerable interest at home and abroad.
Bruhl plays a young man named Rupert who has fled to escape his hoodlum uncle with best friend Junior (Gisli Orn Garoarsson), who has returned to the shabby trailer park known as "King's Road" hoping to get some money from his father.
Deposited in the muddy park by bossy taxi-driver and general pest BB (Ingvar Eggert Sigurosson), who takes most of their money and confiscates their beer, they find Junior's dad, Senior (Sigurour Sigurjonsson), not at all pleased to see him.
Senior has a currency scam going with BB and suffers from assorted phobias that keep him from entertaining his trophy wife Sally (Nanna Kristin Magnusdottir), who takes to hanging out with a couple of dimwit brothers named Ray (Olafur Darri Olafsson, pictured with Magnusdottir) and Davis (Olafur Egilsson).
They have a scam whereby Ray acts as a crossing guard at the entrance to the trailer park where he allows people to cross only when a car approaches. He then fines the stopped driver whatever he can get away with.
The inhabitants also include a no-talent songwriter guitarist who spends his time hiding his constant drinking from his pregnant wife; an old lady who carries around a dead seal made into a handbag; and a couple who spend all day in a broken-down car smoking cigarettes and spliffs listening to heavy rock.
The writer and director manages to make all the characters stand out thanks to a smart screenplay, appealing performances, and accomplished editing while the band Lay Low sings jaunty numbers on the soundtrack.
Many of the characters turn out to be related in some way and the film has a good time sorting out relationships as the comedy turns very black toward the end, by which time it's a shame to see them leave.
Venue: Locarno International Film Festival, Piazza Grande; Cast: Daniel Bruhl, Gisli Orn Garoarsson; Director, screenwriter, editor: Valdis Oskarsdottir; Producers: Arni Filppusson, David Oskar Olafsson, Hreinn Beck; Director of photography: Bergsteinn Bjorgulfssin; Production designers: Harry Johannsson, Gunnar Paisson; Costume designer: Sonja Bent; Music: Lay Low, Lovisa Sigrunardottir; Production company: Mystery Island; Sales: Beta Cinema; Not rated; running time, 100 minutes.
This review appeared in The Hollywood Reporter.