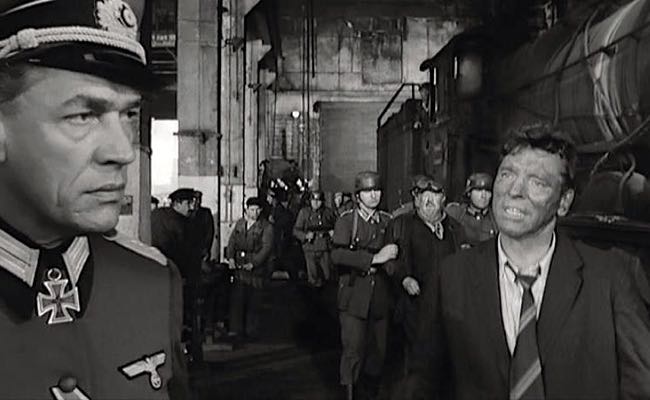 By Ray Bennett
LONDON – The great actor Paul Scofield, 1966 Oscar-winner for "A Man For All Seasons," has died. He was 86. Reuters says he died peacefully at a hospital near his home in southern England, quoting his agent Rosalind Chato: "He had leukemia and had not been well for some time."
Tributes will pour in for one of the finest stage and screen actors that Britain has ever produced. "Of the 10 greatest moments in the theatre, eight are Scofield's," Richard Burton once said.
Scofield gave a towering performance as Sir Thomas More in "A Man For All Seasons" with Robert Shaw as Henry VIII and Orson Welles as Cardinal Wolsey. Director Fred Zinnemann, screenwriter Robert Bolt, DP Ted Moore, and costume designers Elizabeth Haffenden and Joan Bridge also won Academy Awards to go with the best picture prize.
My favorite Scofield performances, however, were in two Burt Lancaster pictures, "The Train" (top picture)  and "Scorpio" (below).
In John Frankenheimer's "The Train" (1964) he plays a German colonel who tries to steal French art treasures with Lancaster as the resistance railwayman trying to thwart him. Shot in black and white by Jean Tournier and Walter Wottiz (Oscar-winner for the black-and-white "The Longest Day") with incisive music by Maurice Jarre, it's a marvelously tense battle of wits with the two leads matching each other in intensity.
Michael Winner's "Scorpio" (1973) was an underrated spy thriller about an ageing CIA agent named Cross (Lancaster) set to be eliminated by a cold-blooded assassin called Scorpio (Alain Delon). As in many of his better films, Winner had the good sense to allow fine actors to simply do their stuff.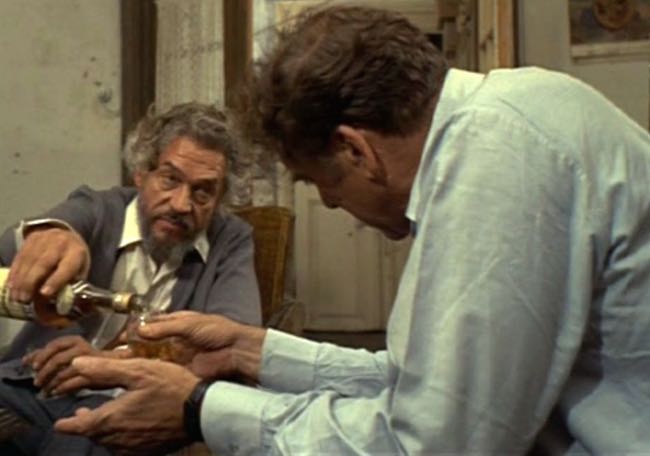 Filmed atmospherically in Washington, Paris and Vienna, with a good score by Jerry Fielding, the screenplay by David W. Rintels and Gerald Wilson includes a fabulous scene in which Cross gets drunk with his old Cold War foe, the Russian Zharkov, played by Scofield with wry nostalgia and good lines, as Zharkov warns his longtime adversary: "Do me one favor, Cross. Run. As fast and as far as you can," the scene shows two acting masters at the top of their game.