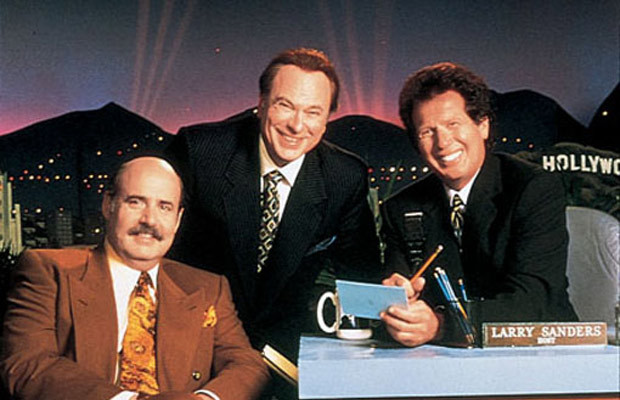 By Ray Bennett
A big thank you to Sky Plus and ITV4 for making it possible to have a dozen episodes of "The Larry Sanders Show" ready and waiting after a lengthy trip on the road.
The show, which aired originally on HBO in the U.S. from August 1992 to May 1998, is unquestionably the best television comedy series ever. Even after many viewings, the writing and acting are at such an unmatched level that it's impossible not to burst out laughing.
ITV4 airs it in the wee small hours and is to be congratulated for perseverance given that the only revenue at that time comes from dating and phone chat services.
Sky Plus eliminates them handily and it easy to enjoy the often savage, sometimes tender and always hilarious writing and beautifully gauged performances. Garry Shandling, Rip Torn, Jeffrey Tambor (pictured), Penny Johnson, Janeane Garofolo, Wallace Langham, and a roster of terrific performers and guest stars make up the greatest comedy ensemble on TV.
It's a great shame all 89 episodes are not available on DVD but it appears that obtaining clearances for all the guests, especially the musical acts, has proved too great a hurdle. There are some collections available and Sony released a new edition in April. Most of the names connected with the series have gone on to good things but nothing to equal "The Larry Sanders Show."