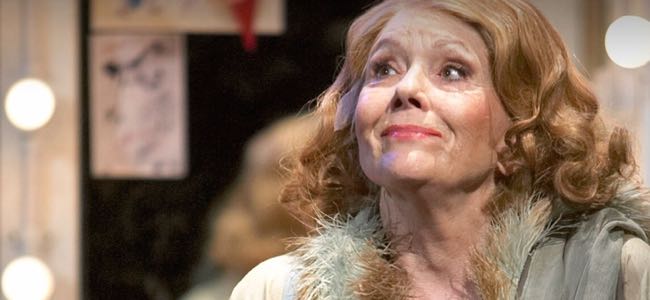 By Ray Bennett
LONDON – Great movies become good remakes almost never, but Samuel Adamson's inventive, funny and touching play "All About My Mother," based on Pedro Almo-dovar's Oscar-winning 1999 film, makes a strong case at the Old Vic that fine movies can make splendid theater.
The production's big name is Diana Rigg, playing the veteran actress Huma, who also is seen as Blanche in "A Streetcar Named Desire" and doing a scene from Lorca's "Blood Wedding."
It's a relaxed and diverting performance perhaps because Huma is not the lead. Rigg has great fun with the more outrageous lines – "I haven't sucked cock in 30 years" she declares with gusto – and carries responsibility for the play's emotion many times but especially in the final scene like the star she is.
Obviously going without Almodovar's lyrical screen imagery and flair for capturing actors in revealing close-ups, Adamson retains the filmmaker's time-shifting and weaving of scenes from stage and screen into real-time action.
The story of mothers and children and cockeyed families is reimagined with considerable fidelity to the original. The film's references to Tennessee Williams, Truman Capote, Federico Garcia Lorca and "All About Eve" are employed in similar but subtly different ways in the play.
Almodovar's eye-opening relish of Barcelona's colorfully reckless, sardonic and rueful nightlife is represented fully, and much of the comedy is enhanced with the broadness that theatre allows. Sets and costumes are colourful and evocative and the show has the wonderful music that Alberto Iglesias wrote for the film.
Theatre director Tom Cairns manages the many scene changes deftly and stages crucial scenes with a good eye for the essential point. In the film, Manuela sees her 17-year-old son, Esteban, run down and killed by a car in the rain while she seeks the autograph of his favorite actress, Huma Rojo. The boy's heart goes in an organ donor scheme to a needy father.
Manuela returns to Barcelona to find the boy's father and befriends a young woman, Rosa, who is pregnant by the same man who fathered Esteban. She hooks up with an old friend, Agrado, a transvestite prostitute, and also seeks out Huma who is involved with a heroin-addicted lover, Nina.
It's convoluted on paper, which says a great deal about Almodovar's skill as a filmmaker, but also it is testament to Adamson that he is able to keep all the characters clear and amplify the key themes and vital references, which have to do with tortured love, forbearance and forgiveness.
While the son, Esteban, disappears early in the film, the role is expanded in the play and he is made narrator along with Agrado, played successfully by a man (Mark Gatiss) rather than as a woman in the film.
Colin Morgan, who won acclaim in the title role of "Vernon God Little" at the Young Vic, is an assured presence in an important role as Esteban, and Gatiss, of TV's "The League of Gentlemen," is a sparkling crowd-pleaser as the shrewd, caustic and sadly wise transvestite.
Lesley Manville, as Manuela, offers pleasing surprises throughout the play to compete remarkably in the imagination with the film's impeccable Cecilia Roth, and it's no fault of Joanne Froggatt, as Rosa, that she's not Penelope Cruz.
Cast: Colin Morgan; Lesley Manville; Charlotte Randle; Diana Rigg; Mark Gatiss; Joanne Froggatt; Eleanor Bron; Playwright: Samuel Adamson; Based on the film by: Pedro Almodovar; Director: Tom Cairns; Set designer: Hildegard Bechtler; Music: Alberto Iglesias; Stage score: Ben & Max Ringham; Costume designer: Moritz Junge; Lighting designer: Bruno Poet; Sound designer: Christopher Shutt; Presented by the Old Vic, Daniel Sparrow, Neal Street Prods., Dede Harris and DRB Prods.
This review appeared in The Hollywood Reporter