By Ray Bennett
LONDON – No one does preoccupied better than Bill Nighy and playing to his strength as a serenely detached public relations guru just about saves writer/director Stephen Poliakoff's ponderous story of family alienation, "Gideon's Daughter."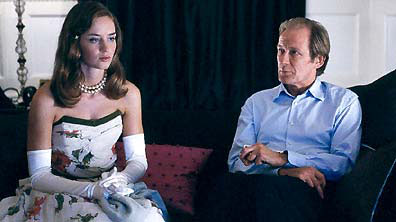 The film is connected to the filmmaker's recent glossily vacuous "Friends & Crocodiles" by one character, a gossipy writer named Sneath (Robert Lindsay), who narrates Gideon's story to an agency temp for his latest book. The device is a puzzle as while it might have been used profitably to add some grit and spice to the spin-doctor's story, instead Poliakoff tells it in his own fanciful manner.
We learn that Gideon was a nuts-and-bolts flack for comedians before evolving into a major manipulator of truths and images for big-time corporations and politicians. Along the way, he bedded many women, lost his wife to cancer and apparently lost the love and trust of his beautiful daughter Natasha (Emily Blunt).
Poliakoff makes Gideon a sort of Chauncey Gardiner so that, just like the character in "Being There," he spouts vague nonsense and his clients believe he's solved their problems. These include anything from opening movies to launching restaurants to planning the Labour Party's Millennium celebrations.
Gideon can show up accidentally two hours late for a vital meeting with an Italian media mogul only to find that the tycoon was deliberately late for the same amount of time and somehow he has won a power race he didn't even know he was in. Almost fully detached from the work that has made him rich, Gideon can tune out the pitches and entreaties of his clients and still give the right answer.
All of this is to show that Gideon doesn't listen and loves his daughter too much because he feels she has never forgiven him for his affairs nor for being absent when her mother died. While the affairs of London's media world swirl about him, Gideon is silently falling apart until he is caught by an unconventional woman named Stella (Miranda Richardson), who is grieving over the loss of her young son who was killed in a road accident.
As is inevitable in such screen treatments, the wealthy sophisticate is able to get back in touch not only with his lower middle-class roots but also with his true feelings about his daughter.
Nighy can do this stuff in his sleep and it's to his credit that he does so much more, and it takes all of Richardson's extraordinary acting range to make her tiresome character interesting. Blunt has little to do other than look beautiful and sulky, which she does very well.
Poliakoff appears to be striving for important themes in his story but he strikes the same notes as in the earlier film, with empty people at a lot of prettily decorated but meaningless functions. He has a fascination for 24-hour stores, eateries at the end of the London bus route, and author George Simenon's love life, none of which add up to much, but then neither does the film.
Airs: Saturday March 25 BBC America; Cast: Bill Nighy, Miranda Richardson, Emily Blunt, Robert Lindsay, Ronni Ancona, Tom Hardy, Tom Goodman-Hill, Joanna Page, David Westhead, Samantha Whittaker, Kerry Shale; Writer/director: Stephen Poliakoff; Director of photography: Barry Ackroyd; Production designer: James Merifield; Editor: Clare Douglas; Music: Adrian Johnston; Producer: Nicolas Brown; Executive producers: Peter Fincham, David M. Thompson; TalkBack Thames, part of the FremantleMedia Group for the BBC.
This review appeared in The Hollywood Reporter.