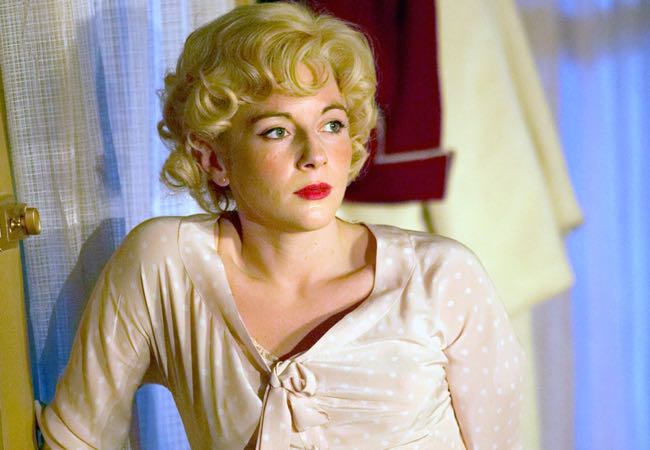 By Ray Bennett
LONDON – "Period of Adjustment" was a rare stab at comedy by Tennessee Williams but whatever humor there might be in the dialog is lost in the Almeida's current revival, which depends on exaggerated Southern accents for its laughs.
The American South boasts as wide a range of accents as Henry Higgins ever found in England but you wouldn't know it from this production, in which everyone speaks with a generic Dee-yeep Say-yowth drawl.
It wouldn't matter so much if the play were classic Williams, but it's not and so the attention wanders to how many syllables Lisa Dillon (pictured), as newlywed Isabel, thinks she can cram into the word "bag" and what sound Jared Harris, as her husband's best friend Ralph, will make for the word "of" in the play's oft-repeated title phrase – "period uh adjustment" or "period o' adjustment."
The play brings together two army buddies whose track record with "the ladies" was never much to speak of and whose marriages are now in states of disrepair.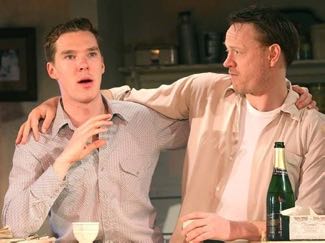 Ralph is at home alone on Christmas Eve – his wife Dorothea (Sandy McDade) having departed after he announced he had quit his job working for her father – when George (Benedict Cumberbatch, pictured, left, with Harris) shows up unexpectedly with his new bride.
It turns out that George has also just quit his job and the new business of marriage is not turning out quite as expected by either party, as Isabel explay-yains at length when her husband dumps her at Ralph's place and drives off. Both he and Sandy return in due course so that all four can explore their mutual predicaments.
It's a measure of the playwright's lack of form that the play's setting is in a suburb of Nashville called High Point in a house built over a cavern. It's jerry-built and crumbling but hanging in there, much like the marriages of the two couples.
Williams displays affection for addled characters usually but here he appears to be laughing at them and perhaps that prompted director Howard Davies and the performers, all skilled actors, to make their voices such objects of fun.
Whatever Williams might have been trying to say about the homo-eroticism of male friendship and the difficulties of marriage gets lost in a mish-mash that has more twangs than a George Jones concert but is nowhere near as real.
Venue: Almeida Theatre, runs through April 29; Cast: Jared Harris, Lisa Dillon, Benedict Cumberbatch, Sandy McDade; Playwright: Tennessee Williams; Director: Howard Davies; Design: Mike Britton; Lighting: Mark Henderson; Music: Paddy Cunneen; Sound: Paul Groothuis; Presented by special arrangement with the University of the South, Sewanee, TN, in association with Robert Fox and Tom McKitterick.
This review appeared in The Hollywood Reporter.