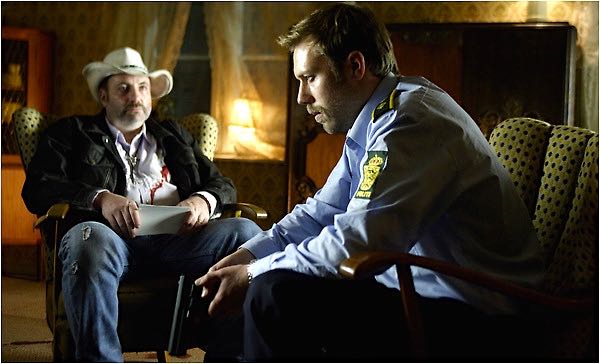 By Ray Bennett
KARLOVY VARY, Czech Republic – Set in an insular community on the windswept plains of southern Denmark, Henrik Ruben Genz's "Terribly Happy" plays like a modern-day Western with a solitary lawman squaring off against corrupt townsfolk.
It's a crafty piece of work with escalating tension as the naïve and troubled new marshal learns that the locals prefer to take care of lawbreakers in their own way, which usually involves the quicksand at a nearby bog.
The film's sly use of characters that bring to mind old Westerns combined with a plot that becomes increasingly more of a horror picture could carry it to some success on the art-house circuit.
Jakob Cedergren plays the new cop in town but the secret is soon out about his recent incarceration in a psychiatric ward after threatening to shoot his errant wife. The town's doctor, preacher and merchant go out of their way to make the newcomer step softly and accept that there are matters he should not be concerned with.
But when an attractive and flirtatious blonde (Lene Maria Christensen) complains that her womanizing and heavy-drinking husband (Kim Bodnia) beats her, the by-the-book officer is drawn into a situation it would be best to avoid.
Genz and cinematographer Jorgen Johansson establish the mood of the film effectively from the start helped by Kara Bjerko's twangy music. Cedergen captures the bemusement of a city boy new to the provincial ways of the outpost in the country's South Jutland region while Christensen and Bodnia make a deceptively complicated pair.
The film gets seriously weird as it goes along but without losing its sense of direction or taste for offbeat humor. The Western theme plays out cleverly and there's a neat substitute for a gunfight as the two main adversaries square off in a bar downing boilermakers.
Venue: Karlovy Vary International Film Festival; Cast: Jakob Cedergren, Kim Bodnia, Lene Maria Christensen, Lars Brygmann; Director: Henrik Ruben Genz; Screenwriters: Henrik Ruben Genz, Dunja Gry Jensen, based on the novel by Erling Jepsen; Director of photography: Jorgen Johansson; Production designer: Niels Sejer; Music: Kaare Bjerko; Editor: Kasper Leick; Producer: Thomas Gammeltoft; Production: Fine & Mellow; Sales: Nordisk Film; No MPAA rating, running time, 105 mins.
This review appeared in The Hollywood Reporter.