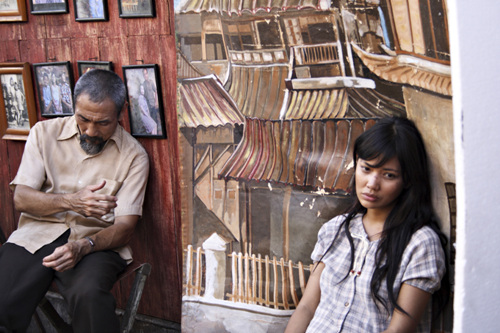 By Ray Bennett
KARLOVY VARY, Czech Republic – Singapore-born director Nan T. Achnas's tender and contemplative drama "The Photograph" tells of an ailing picture taker determined to find a successor before he dies and the sympathetic trollop who becomes an unlikely candidate for the job.
Achnas directs at a gentle pace, allowing cinematographer Yadi Sugandi to frame compelling images and capture two strong lead performances. Evocative and touching, the film should be welcome at festivals and art houses everywhere.
Lim Kay Tong plays Johan, a Chinese man who has lived in Indonesia since he was child and makes his living operating a rundown photographic studio. Into his life comes a sunny but unlucky hooker named Sita (Shanty), who takes up residence in the dusty attic above his studio.
Sita struggles to escape the clutches of her thuggish pimp (Lukman Sardi) and daydreams of being a singer so that she can make money to help her daughter and sick mother, who still live in the countryside.
Johan knows that he is dying and is driven to find an apprentice in order to fulfill a vow that, if he breaks it, he believes he will offend his ancestors and deny him an afterlife. He posts notices relentlessly seeking an apprentice all over town. His obsession is fueled by a dark secret, which is revealed in the last reel, involving the long-ago deaths in a railway accident of his cherished wife and child.
The film compares effectively the actor's ability to register a great deal without speech or movement and the young woman's nervous energy. As she points out, he spends his time contemplating the past while she must deal with today and tomorrow.
Sita's pitiful attempts at being a singer and interviews with would-be photographers provide some welcome humor but the vile world of the country's sex industry is never far away. Achnas also takes time to linger over the longing for absent family members that both characters share in different ways.
The photographer's secret is revealed in an unsentimental but gripping sequence that makes sense of his conviction that he owes a great debt he must pay if he is to find redemption. The film suggests that passing along to the restless young woman the patience and confidence required to take photographs is payment enough.
Venue: Karlovy Vary International Film Festival; Cast: Lim Kay Tong, Shanty, Lukman Sardi, Indi Barends; Director: Nan T. Achnas; Screenwriter: Nan T. Achnas; Director of photography: Yadi Sugandi; Production designer: Menfo; Music: Akasn & Titi Sjuman; Editor: Sastha Sunu; Producer: Shanty Harmayn; Production: Salto Films; Sales: FilmSharks Int'l.; No MPAA rating, running time 94 mins.
This review appeared in The Hollywood Reporter.