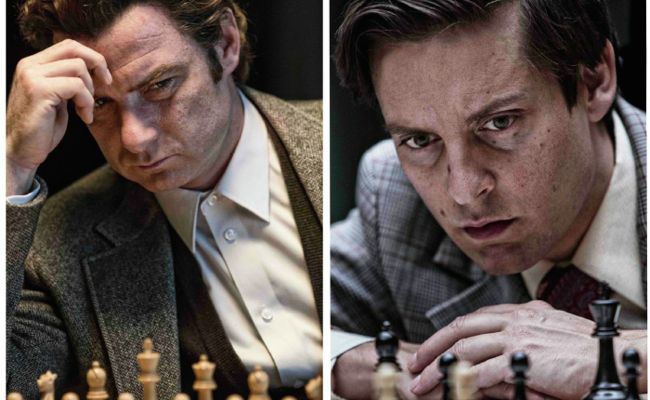 By Ray Bennett
TORONTO – Fast-paced editing, pumped-up music and an assortment of visual textures and styles serve to make a world chess tournament exciting for the uninitiated in Edward Zwick's sprightly drama "Pawn Sacrifice".
The director, who has made several exciting films from "Glory" (1989) to "Courage Under Fire" (1996) to "Blood Diamond" (2006), uses every trick in the book to recreate the tension that surrounded the 1972 World Chess Championships as it was experienced by devotees of the game.
Tobey Maguire produces and stars as American prodigy Bobby Fischer who was the great American hope against the Soviet-era giants of chess led by grandmaster Boris Spassky, played by Liev Schreiber.
It helps that the clash became the focus of worldwide attention as chess vied for the first time with World Cup soccer as a source of global patriotism and fervour and players were treated like rock stars.
The film tracks Fischer as a little boy whose skill and devotion to the game are positively scary through teenage victories to his emergence as a top player. It also tracks his increased mental instability although it wisely does not attempt to analyse it.
Born into a New York Jewish community with an absent father and a mother Bobby (Robin Weigert) who was a fervent communist involved deeply in politics, he was raised in an atmosphere of secrecy and suspicion, which later bloomed into extreme paranoia.
Known for his precise demands regarding where and when he would play and for how much, Fischer knew how important he was to American propaganda in the Cold War and he played the eccentric diva to a tee. Maguire grasps these complexities and conveys with brief smiles and distant gazes the notion that Fischer often knew exactly what he was doing. There are hints of illness too and the actor smiles rarely so that when he does it's not clear if he's marked a small victory or it's a confirmation of his inner fears.
Schreiber plays Spassky with steel and charm speaking almost entirely in Russian. Michael Stuhlbarg is slyly effective as Fischer's major supporter whose connection with the inner sanctums of power are just a bit sinister while Peter Sarsgaard is warm and convincing as the chess-playing priest who becomes Fischer's second.
Supporting players are all effective and James Newton Howard's propulsive score gives way frequently to the music of the time from acts such as Jefferson Airplane, Credence Clearwater Revival and the Spenser Davis Group.
Venue: Toronto International Film Festival. Cast: Tobey Maguire, Liev Schreiber, Michael Stuhlbarg, Peter Sarsgaard, Lily Rabe, Robin Weigert; Director: Edward Zwick; Writer: Steven Knight, story by Stephen J. Rivele & Christopher Wilkinson, Steven Knight; Director of cinematography: Bradford Young; Production designer: Isabelle Guay; Music: James Newton Howard; Costumes: Renée April; Editor: Steven Rosenblum; Producers: Gail Katz, Tobey Maguire, Edward Zwick; Production: Mica Entertainment, Material Pictures. Not rated. Running time 114 minutes.