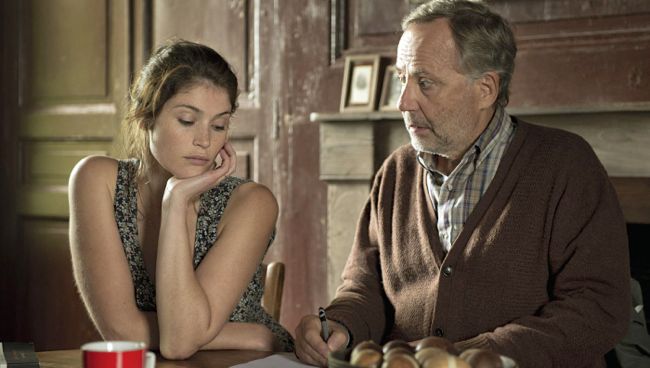 By Ray Bennett
TORONTO – Anne Fontaine's "Gemma Bovery" is a witty Gallic fable with a sting in its tail that combines a celebration of glorious femininity with merciless mockery of men who are beguiled by it.
Gemma Arterton stars as Gemma, a freckle-faced English rose who moves into a rickety old house in a small town in northern France with her husband Charlie, played by Jason Flemyng.
Upon espying Gemma, their neighbour – a married middle-aged baker named Martin Joubert, played by Fabrice Luchini – is captivated instantly as he reflects that his first sight of her marks the end of  "10 years of sexual tranquility".
The couple's last name is Bovery, so Jouvert, a cultured Parisian who has escaped the capital's financial rat-race to take over his late father's bakery, projects upon them the fate of Flaubert's "Madame Bovary", a woman who has adulterous affairs and ends up deep in debt.
Fontaine ("Coco Before Chanel") and Pascal Bonitzer's clever screenplay is based on the graphic novel by Posy Simmonds, who also created "Tamara Drewe", which Stephen Frears made into a film in 2010 also starring Arterton.
The film's target is the fallible male imagination as four men find Gemma's ineffable allure irresistible. Cinematographer Christophe Beaucarne ("Coco Before Chanel") bathes the Kent-born actress in lambent shades and she proves to be as provocative in a simple dress and Wellies as she does in fancy duds.
Gemma is a decorator and Charlie refurbishes antiques so they soon fit in with the locals as she adapts quickly to the language and adores all things French. That comes to include the handsome young heir to a grand local estate, a boy named Hervé (Niels Schneider), as her marriage flounders, and Joubert's Flaubert theory begins to unfold as she is drawn into an affair. The baker is moved to intervene with an untimely letter that disrupts events and will lead to betrayal and tears.
It is a comedy, however, although it becomes quite black at the end even amid laughter. The film makes it clear that Arterton's striking beauty and zaftig figure are male ideals and pokes fun at a skinny Frenchwoman who pinches a little flesh on Gemma's hip.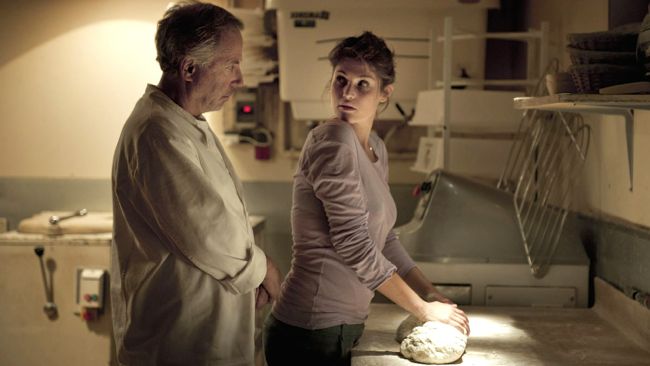 Her command of French is a source of humour as she orders breadstuff and when she is stung by a bee and stumbles over the French words to ask Joubert to suck out the poison.
Her unabashed love of France compares to the French woman and her British husband who rave about French wine and cheese but order all their other food from London.
Joubert has much to say on this and similar topics and he is keen to share with Gemma the pleasures of bread-making in a sensuous scene that Arterton plays artfully while Luchini's baker hovers in suspended desire.
In scenes with the young heir, the actress is seen déshabillé but the director wisely does not have her disrobe fully even as she is surprised in flagrant delicto with tousled hair and honeyed limbs. Arterton gives an assured and winning performance as Gemma's confidence wavers while Luchini's comic delivery is deft and entertaining.
Beaucarne's cinematography gives the whole thing a pleasing glow and the score by Bruno Coulais adds wit and substance to a very satisfying film.
Venue: Toronto International Film Festival. Cast: Gemma Arterton, Fabrice Luchini, Jason Flemyng, Isabelle Candelier, Mel Raido, Niels Schneider. Director: Anne Fontaine; Writers: Pascal Bonitzer, Anne Fontaine from the graphic novel by Posy Simmonds; Director of photography: Christophe Beaucarne; Production designer: Arnaud de Moleron; Music: Bruno Coulais; Costumes: Pascaline Chavanne; Editor: Annette Dutertre; Producers: Philippe Carcassonne, Matthieu Tarot; Production: Albertine Productions, Cine@, Cinéfrance 1888, Gaumont. Running time 99 minutes.