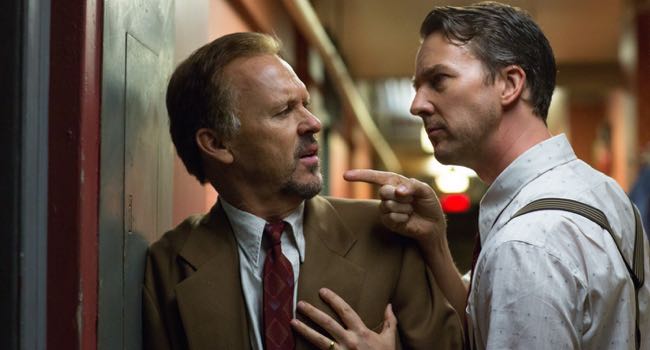 By Ray Bennett
Alejandro González Iñárritu's "Birdman (or The Unexpected Virtue of Ignorance)" is a scintillating evocation of artistic crisis. It's a surrealistic black comedy about the creative fears of a movie star whose career in comic-book blockbusters has long ended and who now seeks redemption in a serious Broadway play.
It's funny, insightful and sometimes puzzling but always entertaining with a career-best performance by Michael Keaton and great work from a fine cast who are all in on the joke but play it with a straight face.
Everything in the film appears to be a manifestation of the anxieties that could beset a man who attempts to strike out in a new creative direction. In this case, it's movie star Riggan Thomson, who once played a superhero but who hasn't had much luck since. Keaton takes on fully the obvious fact that his career hasn't gone so well since he played Batman.
The Birdman character is now Riggan's alter ego, often on hand to argue that his stage adaptation of a Raymond Carver short story about love is sheer hubris and he should go back to making crap movies.
His daughter (Emma Stone) appears to be a stoner flirt with no direction and little respect for him; his wife (Amy Ryan) is so supportive that perhaps he shouldn't have left her; his current inamorata and co-star (Andrea Riseborough) might prefer women.
His new male co-star (Edward Norton, pictured top with Keaton) is a bigger stage star, a better actor and he has a bigger dick; his business partner (Zach Galifianakis) could be lying about both backing and ticket sales; the New York Times critic (Lindsay Duncan) hates him personally and aims to destroy his play no matter what; he will be locked out of the theatre during a performance; the different drummer he marches to will be the death of him, and Chekov's gun will misfire.
It's all done with tremendous bravado and sharp wit in a few very long takes, which have become a speciality of cinematographer Emmanuel Lebezki, who did Alfonso Cuaron's "Children of Men" and "Gravity", for which he won the Oscar.
The screenplay by Alejandro González Iñárritu, Nicolás Giacobone, Alexander Dinelaris Jr. and Armando Bo includes many topical and cultural references as well as inside gags about the theatre and show business in general. Riggan is caught in a trap of his own making and while he questions if his aim is too high, he is determined to fly.
Keaton captures the man's demons incisively and with great comic timing while Norton and Stone are deliciously mischievous thorns in his hide although the entire cast shines. Antonio Sanchez performs his drum score onscreen most of the time and his contribution adds greatly to the feel of the picture even if key scenes rely on classical pieces by Mahler, Ravel, Rachmaninoff and Tchaikovsky.
Already bound for top awards, the film is one to enjoy more than once as it reveals even more treats with each viewing.
Opens: UK, Dec. 26, wide Jan. 2 (20th Century Fox), US, Oct. 17, wide (Fox Searchlight); Cast: Michael Keaton, Zach Galifianakis, Edward Norton, Andrea Riseborough, Amy Ryan, Emma Stone, Naomi Watts, Lindsay Duncan; Director: Alejandro González Iñárritu; Screenwriters: Alejandro González Iñárritu, Nicolas Giacobone, Alexander Dinelaris, Armando Bo; Director of photography: Emmanuel Lubezki; Production designer: Kevin Thompson; Music: Antonio Sanchez; Costume designer: Albert Wolsky; Editors: Douglas Crise, Stephen Mirrione; Producers: Alejandro González Iñárritu, John Lesher, Arnon Milchan, James W. Skotchdopole; Executive producers: Christopher Woodrow, Molly Conners, Sarah E. Johnson; Production companies: New Regency, M Productions, Le Grisbi Productions; Rating: UK, 15; US, R; running time 120 mins.