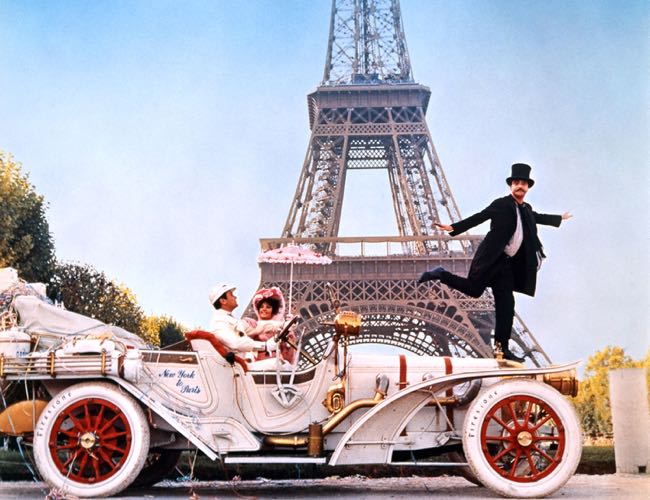 By Ray Bennett
Linwood G. Dunn blew up the Eiffel Tower for $64, bombed Moscow and shot up ships and planes in both world wars, and got away with it.
Dunn, whose birthday was 110 years ago today, was one of Hollywood's greatest special effects pioneers on films from "Mighty Joe Young" (1949) to "West Side Story" (1961) to "It's a Mad Mad Mad World" (1963), which he said was the most challenging and rewarding, and TV shows including "Star Trek".
He received four technical Academy Awards and in his honour, the Linwood Dunn Theater opened as the Motion Picture Academy's newest screening room at 1313 Vine Street in 2003, five years after his death.
One August day in 1974, Dunn, then 69, talked about his craft at the University Film Association's 28th annual meeting, held for the first time in Canada at the University of Windsor, and I was there for the Windsor Star newspaper.
Dunn had been making the unreal appear real in movies since the 1920s at RKO Studios and his work can be seen in the first Fred Astaire and Ginger Rogers film, "Flying Down to Rio" (1933) when dancers perform on the wings of a flying airplane. When Cary Grant and Katharine Hepburn decided the leopard was too dangerous in "Bringing Up Baby" (1938), Dunn shot the actors and the cat separately and mixed them by means of optical printing.
His opticals helped Gregg Toland's "deep focus" effects in "Citizen Kane" (1941) and allowed Howard Hughes to get past the censors by partially obscuring Jane Russell's cleavage in "The Outlaw" (1943).
Later, Dunn created the photographic effects for the overture of Robert Wise's "West Side Story" (1961) including Saul Bass's title credits, burned Moscow for King Vidor's "War and Peace" (1956), did the battle sequences for Otto Preminger's "In Harm's Way" (1965), and shot aerial dogfights for Blake Edwards's "Darling Lili" (1970) and vivid war wounds for Mike Nichols's "Catch-22" (1970).
He blew up the Eiffel Tower for Edwards's "The Great Race" (1965), starring Jack Lemmon, Natalie Wood and Tony Curtis, but he told me it was a fluke. The director had ordered a $35,000 model of the tower for the final scene in which it is blown up. Dunn said, "One day, we were standing around with the cameras all set and one of my associates said he'd bought a model-kit of the tower for $7. We had a photograph of the Paris skyline with the Eiffel Tower erased so we built the kit and photographed its destruction against the photograph just to see if we could do it."
When Edwards saw it, he thought they had blown up the expensive model, Dunn said, "But it cost us just $64 instead of destroying the $35,000 job, The $7 kit was the one you see in the film."
Dunn was willing to speak about some of his own tricks, such as the Eiffel Tower and the 20-inch model of the Empire State Building in "King Kong" (1933), but he would not divulge the secrets of others on pictures such as "The Exorcist" or "The Ten Commandments" even though he said he'd read the briefs for those films filed with the Motion Picture Academy. Of John Fulton's Oscar-winning special effects for Cecil B. DeMille's 1957 biblical epic, he confided only: "He never mentioned anything about jello."