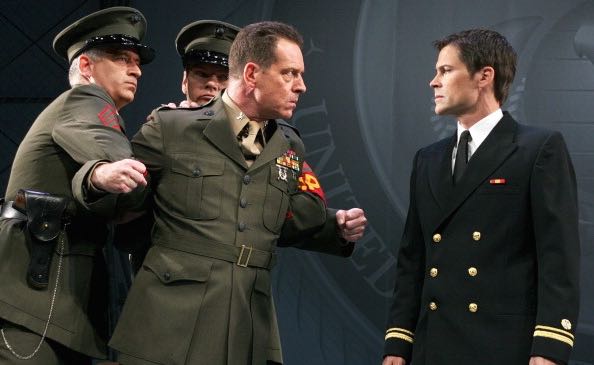 By Ray Bennett
LONDON – "The West Wing" creator Aaron Sorkin's entertaining courtroom drama "A Few Good Men" survives the journey from its Cold War roots in David Esbjornson's production but it cannot escape the shadow of the star power in Rob Reiner's 1992 film version.
Jack Nicholson knows an Oscar-contending line of dialogue when he sees one and when the Marine commander he portrays in the movie snarls the famous phrase of denial, "You can't handle the truth", it takes an actor of Tom Cruise's extraordinary energy to face him down.
The London production offers Rob Lowe (pictured above right and below left) in the Cruise role of the cocky young defence lawyer who aces his trials but wisecracks his way out of facing the fact that he's not the legal brain his father was.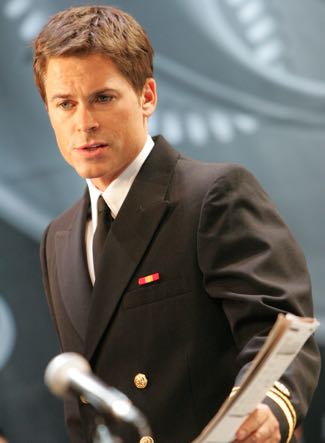 Jack Ellis (pictured above centre) plays the colonel whose taste for rigorously disciplined tradition at the U.S. Naval Base at Guantanamo Bay results in the death at the hands of two young marines of a young comrade who is ill-fitted in the Corps. and wants merely to go home. Their trial occupies most of the trial and pits the freewheeling young lawyer against the leathery warrior.
Written in the late 1980s, when communism was still seen as a volatile threat, the "truth" of the commaner's statement has to do with the sacrifices required of the defenders of democracy and his belief that an ugly excess of zeal often is required.
The notion that the U.S. forces at Guantanamo are staring down a fearsome communist dictator bent on invasion is bemusing outside the U.S. and the imagination flies less to issues of Cold War military fortitude than to questions of incarcerations without trial, and torture.
Britain has its own ugly record of internment camps, however, and Sorkin's argument that the defence of freedom must be honorable and accountable speaks just as loudly here.
But "Men" is a commercial piece with no pretensions toward art and director Esbjornson deploys his sturdy cast amid Michael Pabelka's evocative sets in a brisk and convincing fashion.
Lacking the star power of their screen counterparts, there's not a lot thay Suranne Jones (for Demi Moore), Dan Fredenburgh (for Kevin Pollak) and Jonathan Guy Lewis (for Kiefer Sutherland) can do with the thankless token stereotypes of, respectively, feisty female lawyer, loyal Jewish buddy and nasty redneck villain.
Ellis handles the colonel's Captain Queeg-like meltdown effectively and Lowe – whose allure is from the dimmer bulb of TV and a few bad movies in his youth – is entirely professional and likable. He's not helped by the fact that John Barrowman, as the prosecutor played by Kevin Bacon in the film, demonstrates sufficient charisma and electricity to suggest that he would be well-cast in the Cruise role.
Venue: Theatre Royal Haymarket, runs through Dec. 17; Cast: Rob Lowe, Suranne Jones, John Barrowman, Jack Ellis, Michael Beckley, Michael Wildman, Nick Court, Dan Fredenburgh, Jonathan Guy Lewis, Andrew Maud; Playwright: Aaron Sorkin; Director: David Esbjornson; Set designer: Michael Pavelka; Costume designer: Elizabeth Hope Clancy; Lighting designer: Mark Henderson; Sound designer: Ian Dickinson; Presented by Bill Kenwright.
This review appeared in The Hollywood Reporter.