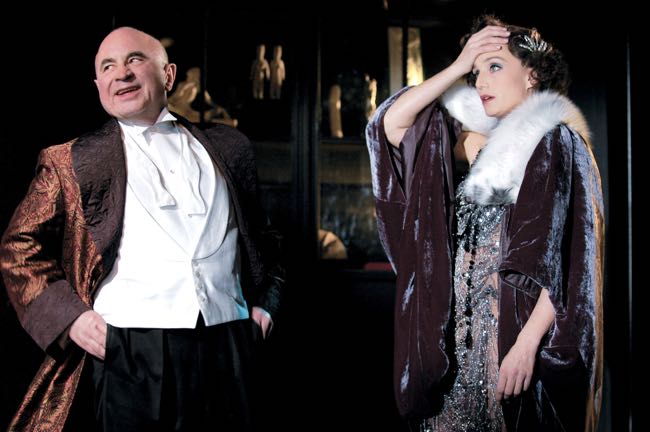 By Ray Bennett
LONDON – Kristin Scott Thomas eclipses the memory of Greta Garbo on the London stage with an impeccable performance in the silent screen star's role in "As You Desire Me" following Mary Elizabeth Mastrantonio's unforgettable fading ballerina in the Donmar's musical "Grand Hotel."
Thomas also might acknowledge a nod to Marlene Dietrich in her ravishing depiction of a 1920s Berlin cabaret entertainer tempted by a stranger's curious claim that she is not who she thinks she is.
Hugh Whitemore's new version of Louis Pirandello's play is a superbly crafted 90-minute mystery in which greed, envy, jealousy and guilt all play a part.
Thomas plays Elma, a cynical beauty who performs onstage as L'Ignota (The Unknown Woman) and is in the business, she says, of arousing men. This is something she does very well although it variously enthralls and displeases her lover, the wealthy writer Carl Salter (Bob Hoskins, pictured with Thomas).
Careless and decadent, Elma collects young men dazzled by images of champagne and satin, knowing it will spark the wrath of not only Salter but also his lesbian daughter Mop (Hannah Young).
L'Ignota is her own invention, as she recalls nothing about her life prior to an incident during World War One when she was found brutalized and alone, and she has only a vague memory of a husband who has died.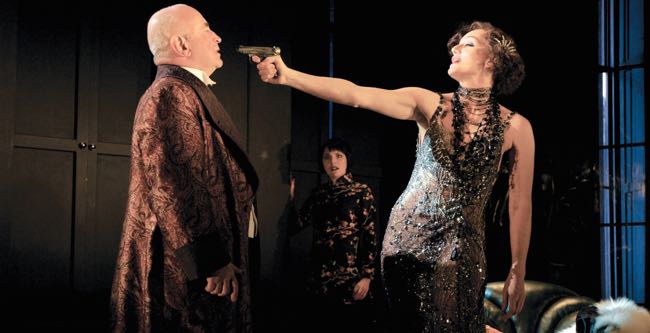 When a stranger knocks on her door and states that she is the long lost wife of a wealthy Italian named Bruno (Richard Lintern), her amnesia makes the claim almost believable. Salter's disbelief, jealousy and anger push Elma to embrace the possibility that she is Lucia, the missing bride for whom Bruno has been searching for 10 years.
Ensconced in the Italian's palatial home, she basks in her adoring husband's conviction that she is his missing wife despite the disconcerting news that his ownership of the place depends on her being who he says she is. Salter's arrival with a brain-damaged woman he claims is really Bruno's wife brings matters to a head.
Thomas is captivating and utterly believable as a woman living in precarious times who uses her beauty and wit to enjoy life's comforts with little concern for what passes as the truth until the lies and hypocrisy that surround her become too much.
The other characters in the play are written as mere sketches by comparison but Jonathan Kent's agile direction allows a top-flight cast including Hoskins, Lintern, Margaret Tyzack and John Carlisle to provide sufficient illumination.
They all benefit from Paul Brown's sumptuous design, which contrasts marvelously Berlin's black and silver midnight brilliance with rural Italy's indulgent sun-drenched languor.
Venue: Playhouse Theatre, runs through Jan. 22; Cast: Kristin Scott Thomas, Bob Hoskins, Margaret Tyzack, John Carlisle, Tessa Churchard, Stephanie Jacob, Richard Lintern, Finbar Lynch, Andrew Woodall, Hannah Young; Playwright: Louis Pirandello in a new version by Hugh Whitemore; Director: Jonathan Kent; Design: Paul Brown; Lighting: Mark Henderson; Sound: Paul Groothuis; Music: Tim Sutton. Presented by Duncan C. Weldon & Paul Elliott, Ambassador Theatre Group, Tulchin/Barter Productions and Eric Abraham.
This review appeared in The Hollywood Reporter.