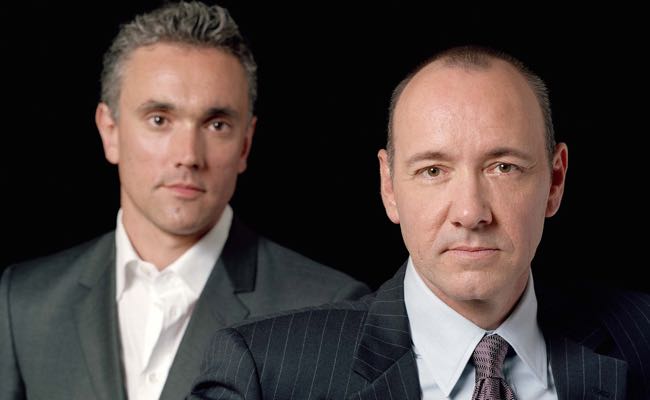 By Ray Bennett
LONDON – Kevin Spacey brings his penetrating wit to the title role of Shakespeare's "Richard II" at the Old Vic and helps director Trevor Nunn's modern-dress production achieve a thoroughly modern relevance.
Men in suits armed with pens backed by men in commando uniforms armed with automatic weapons are a familiar sight in the modern world and Nunn suggests it was ever thus. He uses onscreen video cameras and large video screens for scenes of riots and parades, and also so that live speeches may be rerun as if on CNN.
King Richard II has been a careless monarch not least because he accepts without question his divine right to be ruler. He is more than surprised when Henry Bolingbrook (Ben Miles, pictured above left with Spacey) reveals himself as a man who would be king and more than capable of seizing the thrown.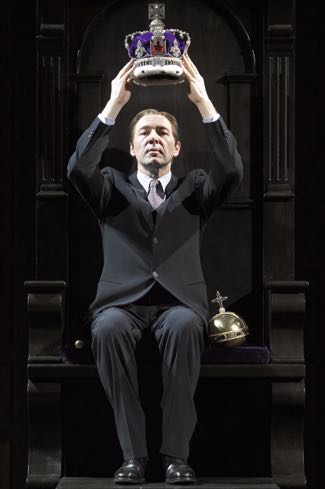 The future Henry IV, Bolingbrook marshals his troops and finagles his allies while Richard dallies in Irish wars and spends playtime with a decadent crowd in smoky nightclubs.
Designer Hildegard Bechtler's evocative sets bring the large Old Vic stage down to size when necessary and the sparing use of ermine cloaks, scepter, orb and crown serves to emphasize what is at stake.
The impact of video resonates especially after John of Gaunt (Julian Glover) makes his impassioned speech about "This England" and how Richard is letting it fall to ruin. Glover does a powerful job in the first place but Nunn shows us the video over again and how it eats at the King continually.
Spacey opens the play in a bold English accent but soon tempers it with his natural voice, which is fairly neutral and mid-Atlantic these days and it never jars. His body language as a man who thinks himself a born leader but lacks the stature to be one works well as his ability to appear sardonic fades to bemusement and finally despair.
Miles makes Bolingwood a crisp and efficient politician, a man who knows what he wants and how to get it. Oliver Cotton plays the Duke of Northumberland as a tireless wheeler-dealer and Peter Eyre is shrewdly calculating as the Duke of York.
Nunn has the elegant Genevieve O'Reilly play Richard's wife, Queen Isabel as Princess Diana or Grace Kelly, posing at a photo shoot, and worrying in her French accent. Susan Tracy, as the Duchess of York who rides into one scene on a motorcycle, has some very droll moments.
The play marks Spacey's Shakespearean debut in Europe and his performance suggests that taking on "Richard III" and "Othello" during his tenure as the Old Vic's artistic director is devoutly to be wished.
Venue: The Old Vic, runs through Nov. 26; Cast: Kevin Spacey, Julian Glover, Ben Miles, Sean Baker, Peter Eyre, Oliver Kieran-Jones, Oliver Cotton, Genevieve O'Reilly, Susan Tracy; Playwright: William Shakespeare; Director: Trevor Nunn; Producer: David Liddiment; Executive producer: Colin Ingram; Set & costume designer: Hildegard Bechtler; Lighting: Peter Mumford; Sound: Fergus O'Hare; Video designers: Dick Straker & Sven Ortel; The Old Vic Theatre Company.
This review appeared in The Hollywood Reporter.